By Prashant Dongre :
The company offers BPO services through persons with disabilities (PWD), women and people from the rural and disadvantaged sections of society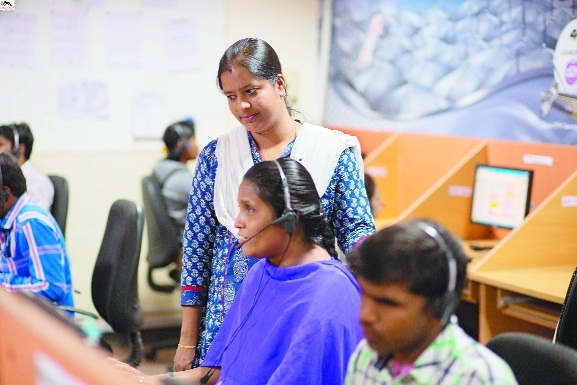 Pavithra YS, MD of Vindhya e-Infomedia giving training.
After rendering its BPO services through persons with disabilities (PWD), women and people from the rural and disadvantaged sections of the society, Vindhya e-Infomedia Pvt Ltd,a Bangalore headquartered company has firmed up plans to open its branch in IT Park, Parsodi. Pavithra YS, Founder and Managing Director of Vindhya e-Infomedia is in talks with some NGOs in and around Nagpur, to provide employment to physically challenged people. "Our primary motto of the company is to bring smile on the faces of the people who direly needs a helping hand to make their both ends meet. She has been able to grow the company from 5 PWDs to close to 1,600 employees.
Over the course of 14 years, more than 5,000 PWDs have been given employment. Her vision is to employ 5,000 PWDs by 2025. Of the total workforce, around 42 per cent headcount is physically challenged people (Divyangs). During my schooling days, I always had a dream to bring people from disadvantage section into main stream," she said while talking to The Hitavada from Bangalore. She had shortlisted Nagpur after Bangalore and Hyderabad due to its logistical advantage and increasing horizontal and vertical growth of the city. "In the first phase, we will deploy 100 people and will take the numbers to 250 in six months time.
"I have set aside a target to employ 2,000 people in Nagpur in the couple of years," she disclosed. She said, other big names of IT and BPO in corporate world too are following her footsteps. Pavithra who is one of the '12 Transforming Women of India' by NitiAayog in 2016, Most Motivational Women Entrepreneur of the year – by CNBC-TV18 & 1000 petals, in 2016. Her company Vindhya has been shortlisted under CSR category by The FTArcelorMittal Boldness in Business Awards for 2018 in London has been highly impressed with the good weather conditions of city. She was in touch with Amitabh Khanna, President, Vidarbha Association of Software Exporters (VASE) for quite some time and then finally took a decision to set up at Nagpur recently after getting convinced
People should know Nagpur as IT hub: Amitabh Khanna Amitabh Khanna said, "We want BPO companies like Vindhya e-Infomedia to have their footprint here so that others will also chase and give facelift to the city." He said, "Like Hyderabad, Bangalore, Pune, I want Nagpur to be known as IT hub." He said, due to his seniors advise, he started chasing NASSCOM in the year 2002. Met Kiran Karnik, then President of NASSCOM,couple of times in Delhi and when he was convinced he brought along some IT stalwarts of the country to harnsess the potential of Nagpur two years later. In short span of time, bigwigs like Tata Consultancy Services, Wipro, HCL, Satyam and Hexaware Technologies purchased land in MIHAN-SEZ. "Even, Nitin Gadkari unmasked the potential of Nagpur with Chairman of few big IT companies," Khanna said.
He has always pushed from his end very hard whenever it was needed. Finally companies like TCS, HCL, Tech Mahindra, Infosys are already operational in MIHAN SEZ. There are also companies like Persistent Systems, GlobalLogic, Infocepts, Lighthouse Systems and others who are making tides in IT sector. "Now, Vindhya e-Infomedia is coming. I will also market the potential of Nagpur with other stalwarts in IT and BPO world which I am doing sincerely as my motto to pay back the society," he said.