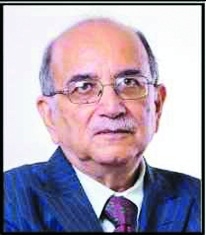 Dr Rajen Mehrotra
Business Bureau :
HRD Forum of Vidarbha Industries Association (VIA) organised a webinar on 'Dynamics of Industrial Relations in India' recently. The keynote speaker was Dr Rajen Mehrotra, former International Labour Organization (ILO) official, former Corporate Head of HR of ACC Ltd, former Corporate Head of Manufacturing and HR of Novartis India Ltd. Mehrotra said, "There is need to innovate and blend Industrial Relations (IR) and Human Resource (HR) practices for the benefit of employees, workers and growth of the organisation." He said, "Industrial Relation (IR) situations arise based on decisions of the top management and also the approach of the trade union involved on issues related to business model including supply, manufacturing, distribution chain, outsourcing and the work force composition consisting of permanent, temporary, Badli, contractor's employees, apprentices, NEEM trainees, fixed term contract workers etc."
He said, "There is need to harmonise Industrial Relations (IR) and Human Resource (HR) practices for the benefit of employees as well as other persons i.e. contract labour and others working in the organisation in the interest of enterprise. On the concept of IR, he said, "Whenever there is a conflict, there is a need for a methodology of resolving the conflict. The IR situation depends on the enterprise's culture and the governance practices, style of management of the owners and the top management, methods employed by them in handling the IR issues in the organisation." "The IR situation is also influenced by Labour Legislations in force, contract of employment, rules and regulations and the past agreements between the management and the trade union," he said. There may be situations when trade unions and workers resort to confrontational measures and indulge in agitations of some kind.
The protests may take different forms such as putting up posters, banners, wearing of black badges, shouting slogans, go-slow, work to rule, stoppage of work, illegal strikes and in some extreme cases, violence and sabotage. These actions by trade unions may invite retaliations from the management and in extreme cases lead to suspension of operations and declaration of a lockout. In some instances, managements may also behave in a high-handed fashion by victimising the workers who are seen as troublemakers like leading an agitation, forming a trade union, taking active part in trade union activities and questioning the management about their decisions and actions. In order to lower the industrial unrest among workers, he suggested remedies, which include building relationships with management, trade unions, employees, contract labour and other workforce.
"For that we need an effective communication strategy, build IR skills in line managers, effective learning programme for internal trade union leaders," he added. Present were Suresh Rathi, President of VIA, Suresh Pandilwar, Co-Chairman of VIA HRD Forum, Neelam Bowade, Convener of HRD Forum, Aditya Saraf, Vice President of VIA, Anil Lakaswar, Retd Labour Commissioner, Bhoopendra Shahane, Chairman of NIPM Nagpur, O P Miglani, Ex Director Personnel of WCL, Vasant Mandhare, Secretary of BPM Union, Sunil Jumde, Mentor of BKS Union and others in large numbers.