Principal Correspondent :
NAGPUR District Football Association (NDFA), the soccer governing body of the district, celebrated the 130th birth anniversary of Bharat Ratna Dr BR Ambedkar on Wednesday. In a simple function organised at NDFA's Bharat Ratna Dr BR Ambedkar Football Stadium in Suyog Nagar, members of the association celebrated the occasion. NDFA President Haresh Vora and Secretary Iqbal Kashmiri attended the function through video conference.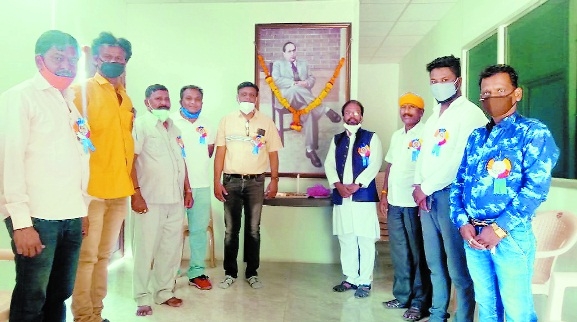 NDFA members and football lovers at Bharat Ratna Dr BR Ambedkar Football Stadium.
The members present at the stadium garlanded the portrait of Dr Ambedkar and spoke about the man who was the architect of the Constitution. Other members and football lovers who were present include Sanjay Katole, Mohd Mubin, Rama Naidu, Dilip Wankhede, Ashok Khadse, Rooprao Sanser, Suresh Kawade, Jitendra Gaikwad, Dinesh Wankhede and others. NDFA got the piece of land from NIT a few years back and constructed the football stadium there. They named the stadium after Dr BR Ambedkar. Recently the ground was inaugurated and several matches of Senior division were held before the coronavirus pandemic once again put brakes on the sporting events. League matches of only Group A are completed. Katole conducted the proceedings while Mubin proposed a vote of thanks.