Sports Reporter :
ONLINE bridge platforms have transformed the lives of many enthusiastic bridge players across the world. Real Bridge (https://realbridge.online) and Bridge Base (https://www.bridgebase.com/) online platforms have really evolved and helped bridge buffs from across the globe to pursue their favourite brain game and also allow them to participate in competitions as well. Vidarbha players are not behind and are making most of the two portals to enjoy and compete online in these tough times when across the table deals cannot be materialised. "Bridge Federation of India (BFI) has successfully conducted all major tournaments online since pandemic with more than 1000 participants pan India. Many players from Vidarbha region have engaged themselves in all these competitions throughout the calendar year and few of them have achieved exemplary results," said Vidarbha Bridge Association's Joint Secretary Amit Rewatkar while talking to 'The Hitavada'.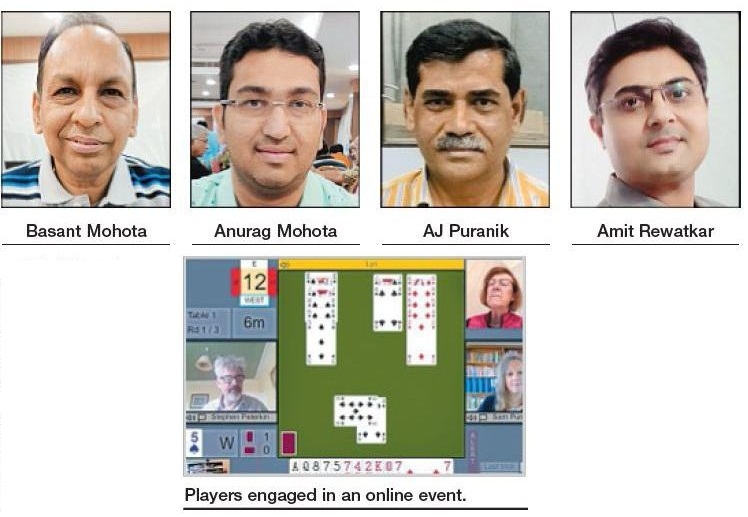 "Since the pandemic, all the major national tournaments were conducted on online platforms at Real Bridge platform that is enabled with features like cameras, voice trackers and other security devices for transparency of this brain game. The father-son duo of Basant Mohota and Anurag Mohota with their team-mates S Chhajed and AJ Puranik have achieved outstanding results in most of the tournaments," he added. Comparing the two sites, Rewatkar said, "Bridge Base online is far more user friendly platform. Many players got over their technophobia and acquired digital skills and results are far beyond expectations. Players who acquired success from Vidarbha Bridge Association in team events are Samir Roy, VJ Puranik, M Mor, Anil Mohota, SS Watwe, MD Diwan, VK Patki along with their team-mates from other regions. "In pairs event conducted on Bridge Base online platform the father and son pairs of Basant-Anurag Mohota and Raja-Amit Rewatkar have achieved great success.
Laxminarayan and Basuri performed well in event organised for senior category." The online platforms are getting popular all over the globe. "The excellent British software, RealBridge, allows you to see and converse with your partner and opponents. It is as close to playing live bridge as is currently possible online. Duplicate, Teams and informal hands can be played, with a chance to review every bid made and card played," wrote a player praising the software on its comments column. Vidarbha Bridge Association has decided to host a major national level tournament with the tentative venue being Maharaj Bagh Club. "Secretary Samir Roy, along with all committee members, have initiated the process and received permission from Bridge Federation of India. Things will get chalked out once the situation becomes favourable for organising the tournament.
"The pandemic has really affected all sports fraternities across the globe. The miracle of online bridge has transformed the lives of thousands of players across India. Many players from Vidarbha Bridge Association are participating in online bridge daily and getting exposure and experience from foreign players as well. "Players who didn't know how to pursue this brain game have got a new life thanks to online bridge," Rewatkar concluded.