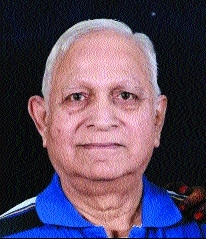 Sports Reporter :
TRIBUTES pour in from sports fraternity after demise of 'Krida Maharishi' Arun Diwakarrao Gadkari. The octogenarian breathed his last on Saturday. Gadkari was praised for his tournament conducting skills by none other that the legendary Vijay Amritraj. He took reins of Nagpur University's Physical Education and Cultural Committee as Joint Director on July 19, 1973 and the inter-varsity tennis tourney, later that year, was the first-ever event hosted under him.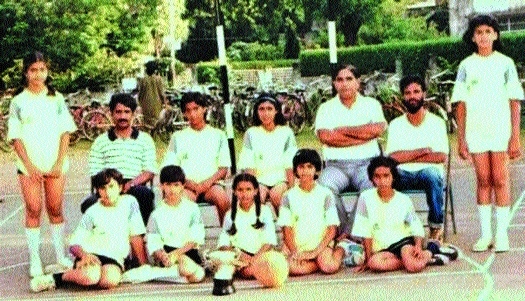 FROM THE ALBUM:Young girls helped Maharashtra Krida Mandal win its maiden title by triumphing in Nagpur District Mini Basketball Tournament in 1986. Prof Arun Gadkari (sitting back row 2R) was secretary of the mandal then.
NIS swimming coach Sanjay Batwe, Vidarbha Hockey Association's Trilokinath Sidhra, Pramod Jain and Sanjay Lokhande, Bhaskar Naidu, Secretary of Nagpur District Table Tennis Association Adv Ashutosh Potnis, Vice-Principal of Dr Ambedkar College Dr Arvind Joshi, Arjuna and Dronacharya Awardee Vijay Munishwar, Deepak Kanetkar, Vidarbha Cricket Association's Sharad Padhye were among those who paid rich tributes to the departed soul. Gadkari held the post for a long time of 27 years. He organised many tournaments involving various sports with the most notables being the All India Inter-University handball and chess events.
Many inter-varsity championships were held under his guidance — table tennis, kabaddi, badminton (twice each), chess, hockey, football, wrestling, women's cricket, basketball, volleyball, swimming, cross country and others. Gadkari's only dream that never got materialised was conducting inter-varsity athletics meet at RTMNU's athletic track about which he always used to say. He played a major role in Nagpur university hosting the prestigious Maharashtra State level Ashwamedh Krida Mahotasava in 1999. He also conducted an inter-varsity mega event of Vidarbha district.