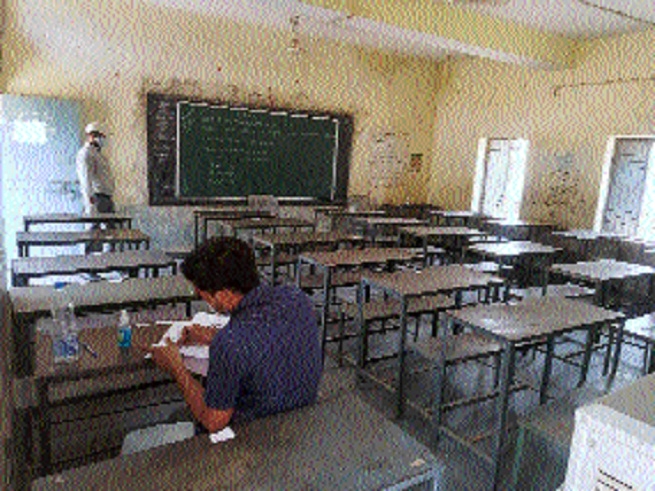 Only one candidate appearing for NDA entrance at Government School, Mathpuraina on Sunday. (Pic by Rupesh Yadav)
Staff Reporter :
Raipur,
Despite foolproof precautionary measures ensured by the authorities at the examination centres in Raipur, 75 per cent candidates skipped entrance examination held for National Defence Academy (NDA) and Naval Academy. Fear of rising number of Covid cases in Chhattisgarh may be the reasons behind the dismal attendance of candidates in the NDA entrance examination, said Deputy Collector and Examination In-charge Poonam Sharma. "Only 25 per cent attendance was recorded in the morning and afternoon shift of the examination held at eight centres across the city," said the Deputy Collector. She said that around 3,100 candidates were enrolled for the examination.
Out of these, only 772 candidates turned for the examination, while about 2,200 candidates remained absent, she said. It is worthwhile to mention, Union Public Service Commissioner (UPSC) conducted the examination across different centres of the country, including 8 centres in Raipur in two shifts First shift of the examination was conducted from 10.00 am to 12.30 pm followed by second shift from 2 pm to 4.30 pm. Collector Dr S Bharathi Dasan had entrusted the responsibility to the officials to ensure the smooth conduct of the examination. All precautionary measures were taken at the examination centres.
The eight centers set up for the examination in Raipur are Government Higher Secondary School, Mowa, Raipur, Saraswati Municipal Corporation Higher Secondary Girls School Near Electricity Office, Phool Chowk, Nayapara Raipur, Shishu Niketan English Medium Higher Secondary School, WRS Colony, Raipur, Government Higher Secondary School, Mathpuraina, Ring Road no. 1, Raipur, Government High School Lalpur (Near MMI Hospital) Raipur, Dr Shyama Prasad Mukherjee Government Girls Higher Secondary School WRS Colony, Raipur, Kriti Institute of Technology and Engineering Knowledge Village, Near Gyan Ganga School, Vidhan Sabha Road Village Nardha Raipur, and Shri Vaman Rao Lakhé Higher Secondary School, Gandhi Chowk, Raipur. Additional Collector B C Sahu, Deputy Collector Poonam Sharma were made the nodal officers for the examination.