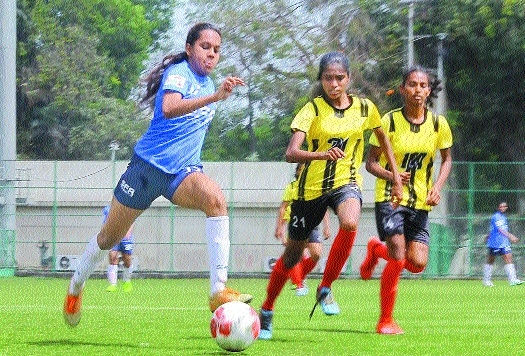 By Paritosh Pramanik :
THRASH NEXT SPORTS ACADEMY, PALGHAR 5-0
THEY hardly had any combined practice sessions but still Amma Football Club girls eked out a superlative performance in their opening match of the Indian Women's League (IWL) Qualifiers at Cooperage Ground, Maharshi Karve Road in Mumbai. The Maharashtra Zone of Women's Football League is organised by Western India Football Association (WIFA). In their opening match, Amma FC thrashed Next Sports Academy by five goals to nil to start their campaign in the seven-team competition on a rousing note. Substitute Nikita Shende shook the net twice while Nidhi Verma, Punam Kumari and Annie Anthony scored one each as Amma FC started with a bang. "I am happy with the performance of the team but not satisfied with the result. They could have scored at least 5-6 more goals. They missed easy chances," team coach Annie Paul told 'The Hitavada'.
With restrictions imposed in Nagpur last month, the players were unable to do combine practice. "We hardly had any combined practice due to restrictions in Nagpur. Had these girls played together for a few sessions, the margin of victory would have been much bigger," Annie added. "This was our first match. We will do better as the tournament progresses," she hoped. Amma FC got off to a dream start when Nidhi Verma managed to break the Next Sports Academy, Palghar defence in the fourth minute to give her side a 1-0 lead on the artificial turf of Cooperage. Striker Punam Kumari then showed good combination up front and stretched lead in the 17th minute. Before changing ends, Annie Anthony put Amma FC in a comfortable position scoring the third goal in the 41st minute.
Next Sports Academy, Palghar showed some courage in the second half and managed to hold the Sunita Yadav-led Nagpur team to some extent with defenders Gauri Singh, Shivani Shivgan, Hardika Katkar and Juhi Mhatre guarding the wall. However, Nikita Shende, who replaced Rakshanda Sonekar in the 55th minute, found gap in defence and delivered twin blows to bury Palghar. Nikita first scored in the 79th minute and then rounded it off five minutes before the final whistle to help Amma FC script a dream start.
Nagpur will play their second match on Saturday against Footie First Football Club. Earlier, in opening match of the tournament, Kenkre FC, Mumbai beat India Rush, Mumbai SC 3-1. Harshika Jain scored twice in 7th and 66th minutes while Nabam Kamyi scored in 14th for the winners. For India Rush, Nirmala Dhurve scored in the 13th minute. In the last match of the day, Footie First, Mumbai thrashed Pacangan Football Club, Satara 14-0. Jyoti scored nine goals (2nd, 25th, 28th, 45+2, 59th, 70th, 73rd, 78th, 80th), Mamta Kumari slammed three (16th, 47th, 49th) while captain Doly Kumari (82nd) and Pooja More (12th) scored one each.