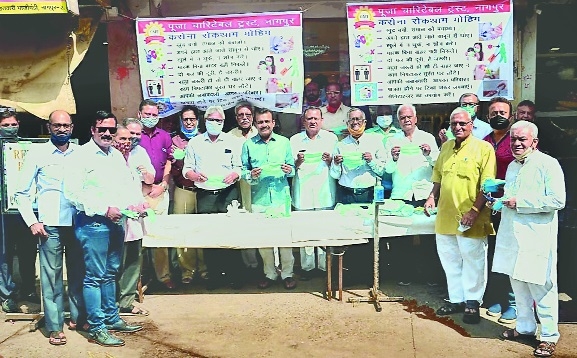 Business Bureau :
As the city is facing increased numbers of coronavirus patients, the Confederation of All India Traders (CAIT) conducted a special campaign to create awareness among the citizens on the issue. Team CAIT Nagpur in association with Pooja Charitable Trust, Sarafa Bazar, Itwari, Nagpur launched the awareness campaign which was inaugurated at the hands of B C Bhartia, National President Confederation of All India Traders, New Delhi. Speaking on the occasion, Bhartia said, "Lockdown of market should not be taken as remedy to restrict the spread of corona pandemic. Since ages, we have been fighting different types of pandemic.
We have not let our economy suffer due to any contagious disease. The businesses had suffered very badly in the last financial year. We should not allow that to continue in the next fiscal." Rajkumar Gupta, President of Pooja Charitable Trust, said, "We have to work as per the guidance of Prime Minister Narendra Modi.
We have to follow all the precautions very strictly. Wearing masks, keeping safe distance, washing hands with soap and use of sanitizer should become part of daily routine." Kishor Dharashivkar, President conducted the proceedings of the event while Rajkumar Gupta proposed the formal vote of thanks. Prominently present on the occasion were Team CAIT Nagpur Chairman Gopal Agrawal, Ramkrishna Gupta, Rajkumar Gupta, Nikhilesh Thakar, Farooque Akbani, Umesh Changal, Rajesh Rokde, Manoj Lunawat, Sarang Dabade, Vijay Dhandiwal, Mahendra Thakkamore (Jain), Puroshottam Sharma, Raghunath Jadhav, Vinod Gupta, Govind Patel, Mahendra Katariya, Dyaneshwar Rakshak, Ramesh Gupta, Parmanand Gupta, Dhruva Gupta, Anand Puholiya, Shyam Shukala, Sau. Alaka Rajkumar Gupta, Jyoti Awasthi, Jayshree Gupta and others, informs a press release issued here.