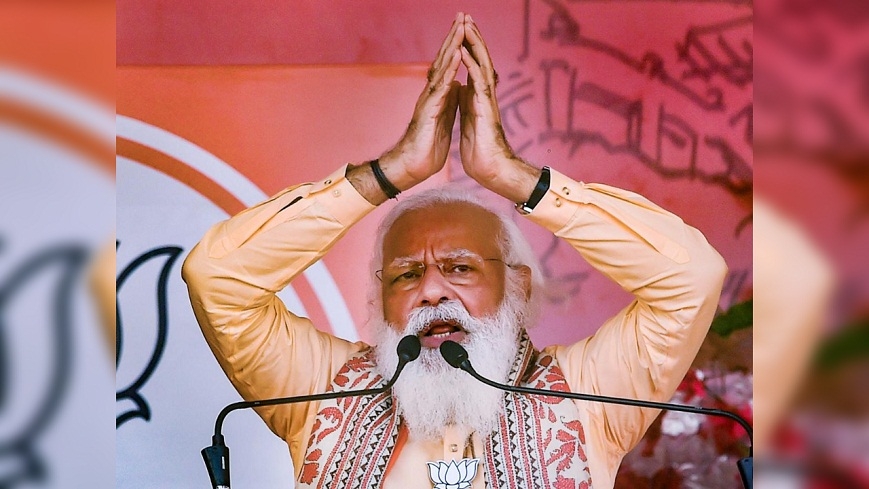 JOYNAGAR (WB) :
MAKING a strong Hindutva pitch at the hustings in West Bengal, Prime Minister Narendra Modi Thursday attacked TMC leaders for calling those wearing saffron, sporting tilak and choti as "rakshas", and declared he does not believe in "seasonal faith". He also said a BJP wave was blowing across West Bengal where the party will win over 200 of the State's 294 Assembly seats. "Earlier, Mamata Didi had issues with chants of 'Jai Shri Ram', over immersion of Durga idols. Now TMC has problems with people wearing saffron, sporting tilak and choti (tuft of hair), they are calling them 'rakshas' (demons)," Modi told an election rally in Joynagar.
He was referring to the recent public declaration by Banerjee of her "gotra" (clan), an unusual thing for the West Bengal leader to do, during the campaigning for the Nandigram seat. The Prime Minister also hit back at the TMC for calling his Bangladesh trip unethical and violative of the model code of conduct for elections and defended his visits to temples there. The TMC had written to the Election Commission alleging that Modi's recent visit to Bangladesh violated the model code of conduct in place for the West Bengal Assembly polls and some of his programmes there were "intended to influence the voting pattern" in certain constituencies. "I visited one of the 51 Shaktipeeth Jeshoreshwari Kali temple in Bangladesh. TMC has taken umbrage. Is it wrong to pay obeisance to Shri Harichand Thakur (founder of the Matua sect) at Orakandi? "I don't believe in showing seasonal faith (shraddha). We always take pride in our faith and tradition," he asserted.
'Assam people showed red card to Cong'
KOKRAJHAR (Assam) ;
DRAWING a football analogy, Prime Minister Narendra Modi on Thursday claimed the people of Assam have shown the "red card" to the Congress-led Grand Alliance in the State. He also accused the previous Congress Governments of being mute spectators for decades to unbridled violence in the Bodoland Territorial Region (BTR) of the State. "Football is a popular sport among the youths of Assam, and to use their parlance, the people of Assam have shown the Congress-led alliance the red card," he said addressing an election rally at Kokrajhar. People of Assam have bestowed their blessings on the NDA, he said.