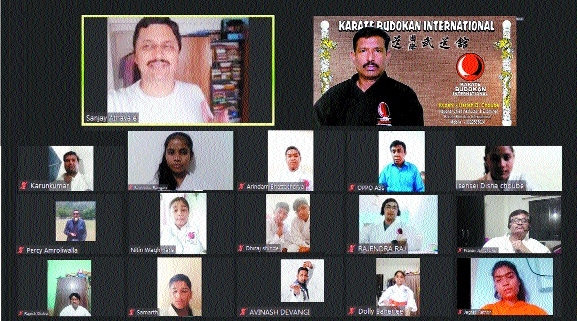 Principal Correspondent :
KARATE training and practice should be done under trained teacher and supervisor, said Renshi Virendra Lauthkar during the online karate and sports seminar being conducted by Karate Budokan International (Vidarbha Region) and hosted by Kyoshi Harish B Choube, National Chief Instructor and Examiner Karate Budokan International. "Always train and practice your Martial Art under direct supervision from an experienced teacher. Perform proper warm-up and cooling down routines. Wear appropriate protective equipment in your style of martial art i.e., gloves, mouth guard, headgear, chest protector, padding, and/or bracing," said Lauthkar. Lauthkar also talked about the injuries in Martial Art. "Martial Arts can result in a wide array of injuries.
The injury type is often dependent on the particular form of Martial Art being performed. Many forms of Martial Art are actually non-contact and these tend to result in overuse injuries," he said. "Common symptoms of concussion include headache, dizziness, nausea, balance problems, difficulties with concentration, and memory problems. Symptoms can last days, weeks, months, or even longer in some cases. Striking and grappling can result in minor injuries such as cuts, bruises and lacerations. More serious injuries, such as fractures of the nose, face, or skull as well as significant injuries of the eyes mouth or teeth can result. These injuries may be minimised by selection of martial arts style, proper training and coaching, and use of protective equipment," he added. Lauthkar also said that injuries can be prevented by having a pre-participation physical exam and clearance evaluation.
"When initially selecting the martial art you plan to participate in, learn the inherent risks with each style of martial art before selecting the one to pursue. Speak with a sports medicine professional or athletic trainer if you have any concerns about injuries or strategies for preventing injuries," Lauthkar said. Renshi Sanjay Athavale spoke on self-defence "Self-defence is one of the aspects of Martial Arts including karate. A right to self-defence is a legal right. If applied it is useful in different threat situations where we have no access to Police/Law Enforcement. Thus knowledge of self-defence can extend from saving actions from minor physical assault to life threatening levels," informed Athavale. Training in self-defence includes understanding threat perception, mental and physical training to execute it at the right time and level, distinguishing between and fight or flight; response, etc.
Though avoiding such situations, deescalating danger levels are advised and extreme reactions are generally avoided. If it is inevitable, use of self-defence is advised," Athavale said. "Besides body parts, any available thing can be used as a weapon or defensive equipment. One should immediately leave the scene of the threat and report to the police," Athavale suggested. The session concluded with an interactive question and answer session. Renshi Karunkumar Tirude, Karate Budokan International, proposed a vote of thanks.