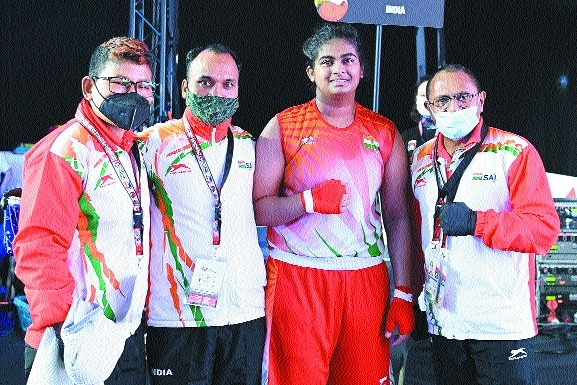 Alfiya Pathan (2R) celebrates with coaches after winning her quarter-final bout at AIBA Youth Men's and Women's World Championships in Kielce, Poland.
Sports Reporter :
Takes on Poland's Oliwia in SF today
AFTER a convincing win in her quarter-finals of the AIBA Youth Men's and Women's World Championships in progress at Kielce, in Poland, city boxer Alfiya Pathan is all pumped up and intends to win gold for the nation Alfiya, pocketed a gold medal for India in the 30th Adriatic Pearl Tournament in Budva, Montenegro recetnly, wants to do an encore. "My intention is to win the world youth gold medal for my country. I will give my best in the coming matches," Alfiya had said after winning her opening match on Sunday.
In the semi-final to be played on Tuesday, Alfiya will face host nation's Poland's Toborek Oliwia, who recorded a hard-fought 3-2 victory over Russia's Bogdanova Tatiana. An attacking left-handed pugilist Alfiya was in great form againt Hoffmann Reka of Hungary. She was playing the Hungarian for the first time. Looking at the rival's height, Alfiya and her corner wanted an attacking start.. "She had an advantage of height which could trouble me, so my coaches told me to be aggressive from the beginning.
My attacking strategy gave me valuable points in my quarter-final bout and I was able to get the result in my favour," she said. Already assured of a medal, Alfiya is two wins away from a gold. If she gets past Russia's Bogdanova Tatiana on Tuesday, she will set up a title clash with the winner of Moldova's Daria Kozorez vs Yeldana Talipova from Kazakhstan bout.