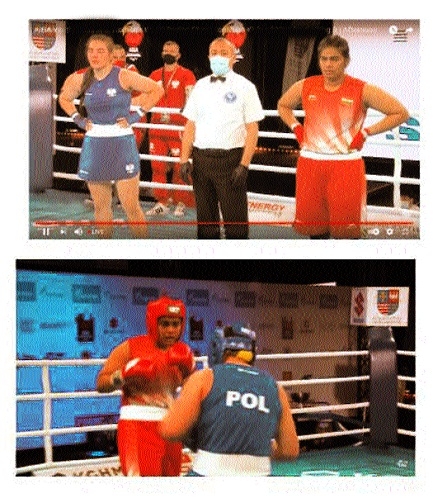 A video grab shows Alfiya Pathan (Red) in action during her semi-final bout against Poland's Toborek Oliwia. Alfiya won by a 3-2 split decision.
Sports Reporter :
Rally to beat Poland's Oliwia, books a spot in +81kg final
NAGPUR'S Alfiya Pathan ensured India at least a silver medal keeping her hopes of winning a gold in the AIBA Youth Men's and Women's World Championships under way at Kielce in Poland, on Tuesday. After a poor first round, a much improved second round and a brilliant third and final round, Alfiya pipped her rival Poland's Toborek Oliwia 3-2 on split decision in a thrilling match. In the women's first semi-final of the +81kg, both Alfiya and Oliwia started on a pacy note exchanging quick blows. The local girl, with cheering from the home supporters, looked more aggressive and was able to impress all the five judges.
The Poland national champion got a 5-0 verdict. In the second round, Alfiya pulled up her socks and with the Red Corner rooting "Maar Alfiya Maar", the Indian came up with a changed strategy and landed punches on both face and body mixing them intelligently. Apart from that, Alfiya maintained a good distance from her rival to avoid being hit. The adjustments worked in her favour and she got a 3-2 favourable score at end of the six minutes (three minutes of each round) of the bout. The third and final round was going to be decisive. Probably, the first minute itself confirmed what was the result going to be. While Alfiya landed a couple of one-twos, the opponent seemed to offering nothing. In the gruelling fight, both the boxers tried to drain each other's energy but it looked like the Polish had not left with much and looked exhausted. Alfiya got what she needed.
All the five judges were in her favour (5-0) and that took closer to her dream of a gold. Alfiya will be up against Moldova's Daria Kozorez who also had an identical 3-2 split decision in her favour in the second semis against Kazakhstan's Yeldana Talipova. The second semis also went almost the same way as the first one. Kozorez started with a bang in the first round to pick five points, the Kazakh bounced back in the second and stay in the match but Kozorez hung on in the decider and some good hits helped the European Youth Champion win. The all important final match will be played on Thursday, the penultimate day of the event.