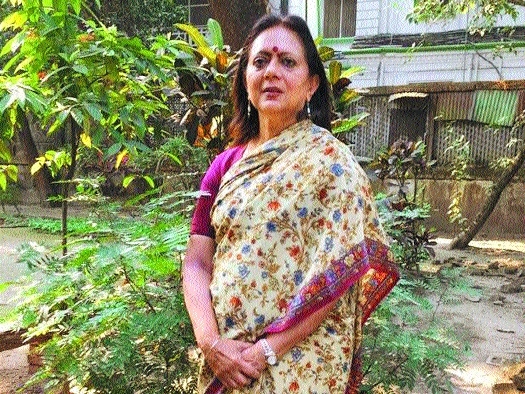 Karuna A Singh
By Kaushik Bhattacharya :
It is that time of the year again! It is Earth Day again! In our daily rat-race and struggles in life, we tend to forget the importance of Mother Nature. And now, since the world is battling the deadly COVID-19 pandemic, the topic of global warming and climate change has been overshadowed again. It is the reason why Earth Day is celebrated every year on April 22. The Hitavada, interviewed the lady, who is well-versed in the field of environment affairs for more than three decades and also holding a high position in Earth Day Network (EDN). The EDN is a global phenomenon, active in nearly 200 countries, and is today the world's largest environmental movement. Karuna A Singh, who is Regional Director for South and South East Asia of EDN, joined the initiative in March 2010, after working for 24 years at the State Department's US Consulate at Kolkata. Singh is leading the EDN initiatives in the Asian continent.
She is a spokesperson for EDN and makes presentations at global forums as well. These include speaking at the 2015 United Nations (UN) Conference of Parties 21. Singh is one of six NGO representatives from across the world chosen to make a presentation to the then UN Secretary General Ban Ki-Moon. She is on the steering committee for India of the Global Environment Facility, UNDP and the Government of India Ministry of Environment, Forest and Climate Change's Small Grant Programme.
Q: How Earth Day Network India is contributing to 'Restoring Our Earth'?
A: Earth Day's ongoing global theme - Restore Our Earth - directs attention to the need to rejuvenate soil; refresh aquifers; regrow green cover; manage waste; protect species and other natural wealth; ensure favourable Air Quality Indices, and re-direct human thought to actions that don't harm the planet. We play a leading role in several initiatives that help restore our planet.'Farmers for Earth'; 'The Canopy Project'; and 'Protect Our Species' are few of them. 'Farmers for Earth' is an information-sharing platform for small and medium-sized farmers. It provides them opportunities to connect with sustainable agriculture practitioners and subject experts. In India, we gift saplings of fruit trees to those living in impoverished areas to help supplement their nourishment and enhance their income through the sale of excess harvest. And all this we are doing under 'The Canopy Project'. Similarly, under the 'Protect Our Species', in partnership with local heroes, we work towards the protection of the habitats of Hanguls in Kashmir, Hornbills in Arunachal Pradesh, Dancing frogs in the Western Ghats and Gangetic dolphins in Varanasi, to name a few.
Q: Do you think Development and Environment Protection can go hand in hand?
A:
Absolutely. But that is if we talk about sustainable development and not just the consumerist model of development. Sustainable development embraces environmental, social and economic objectives. It helps deliver long-term equitable growth that benefits current and future generations. It not only creates jobs for a green economy, but also leads consumers towards environment-friendly choices. All this stimulates the economy.
Q: How India is performing in honouring promises made in the Paris Agreement?Are they enough to restrict global temperature rise below 1.5 degrees Celsius?
A: India is aligned to its Paris commitments and as per the report by Moodys, it exceeds climate compliance as per the agreement. According to the Moody's analysis, the share of generation capacity from non-fossil-based fuel sources in the country will likely increase to 45 per cent by 2022 as India plans to increase its renewable energy capacity. We are on track and with stronger political commitment and effective policies, we will achieve more.
Q: Do you think Environment Protection is only a political agenda or decision-makers are really concerned?
A: It is both ways. Some are serious and concerned about the worsening condition of the environment, while there may be a few who are not. Overall, as I mentioned above, India is aligned to its Paris commitments which is a good sign.
Q: Is there an urgent need of making changes in environmental policies and Acts?
A: Our Constitution and laws are very well designed to protect the environment. Several Environment legislation, such as The Water Act, 1947, Indian Wildlife Protection, Indian Wildlife Protection Act, 1972, Air (Prevention and Control of Pollution) Act of 1981 are there to ensure that the harm done to the environment is reduced. What is needed is an implementation of these laws, and that will only be effective if we educate people about the need to be stewards for the environment.
Q: Is climate change too expensive to fix?
A: Not at all. Our forefathers did it at absolutely no cost. We have just become lazy with innovations and technologies that are environmentally degrading as also impacting our health overall. Take for example water. So much of this precious resource gets wasted when we use water filters in households. A good Government policy to provide clean water to all would take care of this problem. The money saved from the use of gadgets and bottles could help Government make even more improvement in water quality and accessibility.
Q: Does climate change affect the transmission of coronavirus?
A: Many experts strongly endorse the fact that most modern virus infections are a result of humans entering animal reserves, making the jump from animals to humans with potentially serious human health. It is said that, COVID 19 as also SARS are zoonotic diseases. Research is still ongoing, so at the moment we can just theorise not confirm findings.
Q: Earth Day Network's reach in Central India.
A: We work through partner organisations in all states of India. Those in Central India included.
Q: Your message to the citizens.
A: Climate Literacy is very important since environmental education will prepare youth to gain knowledge about anthropogenic activities that adversely impact Earth and it can help foster a new generation of citizens with the interest and the skills needed for jobs in a growing green economy. Enhanced environmental understanding will help them make better sustainable consumer choices.