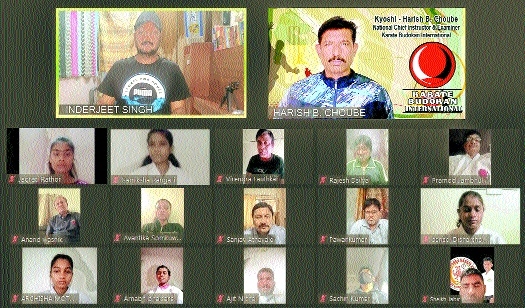 Principal Correspondent :
IN ANY sport, stretching exercises holds significance. Stretching exercises should be done after warm-ups and after work outs, said Inderjeet Singh Randhawa, Chhatrapati awardee and former India handball captain and fitness coach. Randhawa was speaking during the online karate and sports seminar organised by Karate Budokan International (Vidarbha Region). The seminar is being hosted by Kyoshi Harish Choube, Black Belt 7th Dan (Nanadan), National Chief Instructor and Examiner, Karate Budokan International. Renshi Sanjay Athavale, Director, Spiritual Solutions, Reiki Divine, Budokan Institute of Martial Arts, Mumbai Maharashtra was also the speaker of the day.
Randhawa spoke about the benefits of stretching before and after finishing the workouts. Randhawa said research shows stretching can help improve flexibility, and, consequently, the range of motion of joints. "Better flexibility may improve your performance in physical activities, decrease your risk of injuries, helps your joints move through their full range of motion and enables your muscles to work most effectively. Stretching also increases blood flow to the muscle. You may learn to enjoy the ritual of stretching before or after hitting the trail, ballet floor or soccer field," he explained. Randhawa stressed that stretching exercises should be done with proper techniques. "Before you plunge into stretching, make sure you do it safely and effectively. While you can stretch anytime, anywhere, proper technique is the key. Stretching incorrectly can actually do more harm than good," Randhawa noted.
"Before stretching, players should warm-up with light walking, jogging or biking at low intensity for 5-10 minutes. Even better, stretch after your workout when your muscles are warm," said Randhawa. Renshi Athavale continued with his meditation and healing session. Alternate healing methods like Reiki, Magnified Healing, Melchizedek Method, Spiritual Healing etc were explained by Athavale. "These healing methods are non-medicinal. Our traditional healing systems (AYUSH) also go a long way in leading a healthy, balanced life. The stress is more on prevention than cure," he said. The seminar concluded with an interactive session where young participants cleared their doubts. Renshi Pramod Jambhulkar, Black Belt 5th Dan, Karate Budokan International, proposed a vote of thanks.