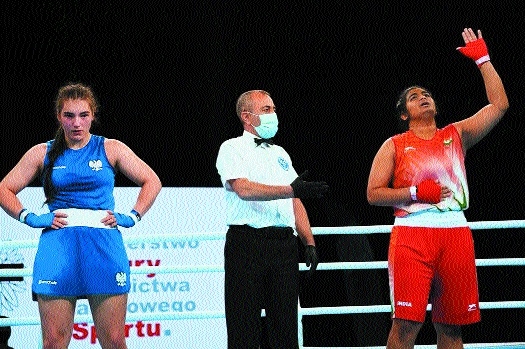 Sports Reporter :
Alfiya will lock horns with Moldova's burly Daria Kozorez in summit clash today
SHE is just one bout away from realising her dream of winning a gold medal in her maiden appearance at a youth world meet. Nagpur's Alfiya Pathan will give her "100 per cent" when she takes on Moldova's Daria Kozorez in the AIBA Youth Men's and Women's World Championships in progress at Kielce in Poland, on Thursday. After a come from behind win in the semi-final over local favourite Poland's Toborek Oliwia, Alfiya is raring to go in the final. "This is my first year in youth group and a medal in this competition holds an important place in my life.
This is my biggest boxing tournament till date and I am very happy that I have made the final. I had put a lot of effort going into this tournament and am ready for the final," she said on the eve of her summit clash to be held in afternoon session on Thursday. On her preparation going into the tournament, Alfiya said, "We all had worked very hard at our national camp that was held in Rohtak and then after arriving here, we have had an extensive 10-day practise. I have worked really hard and am hopeful that I will bring a gold for my country. No special preparation for the final but would like to rectify the mistakes committed in the earlier matches.
I will give my 100 per cent," she concluded. Earlier in the tournament that had only eight entries from different countries, Alfiya was unstoppable in her quarter-finals, thumping Hungary's Reka Hoffmann in women's heavy weight (+81kg) category 5-0. But the sailing was not so smooth in the semi-final against Poland's Toborek Oliwia. In fact, she was 0-5 down at the end of first round with all the judges giving her opponent 10-9 verdict. But she bounced back in the second round for a 3-2 decision in her favour. She was just too good for her rival impressing all the judges in the third and final round for a 3-2 split decision. Boxers from more than 50 countries are participating in the 10-day long tournament. The Boxing Federation of India (BFI) is fielding a 20-member squad including ten in girls' category in the season's first global competition that concludes on Friday with men's finals.