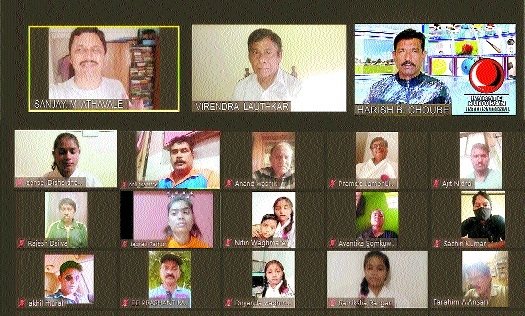 Principal Correspondent :
"KARATE teaches respect, discipline and focus. These qualities help a child grow to become a mentally and physically strong individual. A sound character is one that is enduring, perseverant, tenacious, and target oriented. The essential elements of a good character are honesty, dignity, courtesy, humility, and tenacity," said Renshi Virendra Lauthkar, former Secretary, Maharashtra Taekwondo Association (ITF) and Director for Martial Life (a Centre for Health Meditation Martial Art and Personality Development). Lauthkar was speaking during the ongoing online karate and sports seminar organised by Karate Budokan International (Vidarbha Region). The seminar is being hosted by Kyoshi Harish Choube, Black Belt 7th Dan (Nanadan), National Chief Instructor and Examiner, Karate Budokan International. Renshi Sanjay Athavale, Director, Spiritual Solutions, Reiki Divine, Budokan Institute of Martial Arts, Mumbai Maharashtra was also the speaker of the day. Lauthkar said building a good character is an important milestone in the growth of every child. Parents need to ensure that their children develop a strong character within a healthy and fit body.
"Normally, people view karate as an aggressive and forceful sport. However, karate is also a lot like a psychological learning programme. Not only does it teach your child physical endurance but it also inculcates a strong spirit of teamwork and perseverance. Karate develops physical strength as well as mental endurance. You will notice that your child will gradually develop a winning attitude, an enduring character and a strong sense of self-discipline. He will also develop qualities like dignity and humility, which will strengthen his overall character," elaborated Lauthkar. Lauthkar said that karate shapes character. "Karate as a martial art plays a significant role in boosting your child's mental as well as physical growth. It inculcates some very important traits and skills in your children. These skills help them develop into good personalities with a great character. "Self-defence programmes like karate for kids help your child develop basic instincts, identify and face danger, build strategies for their own safety, fight back with aggression and use their common sense and intelligence during critical situations.
It also involves sessions that teach how to survive an attack, how to find help after an attack, and how to arrange for some kind of first aid to heal the wounds," explained Lauthkar. "The development of the personality and character of every child is measured and charted out separately. Just as endurance and stamina are developed over a period of time, similarly a strong, enduring character is developed with repeated practice and perseverance," said Lauthkar. Renshi Athavale continued his lecture on meditation.
The process of meditation, starting with sitting or in any comfortable body position, spine erect, awareness of breathing, and thoughts, accepting only positive thoughts, Goals setting, visualisation of manifesting of the goals set, non-judgmental about our thoughts, synergising physical efforts with the mental work, attitude of gratitude on achieving, making sports, exercise, arts as an integral part of our life was explained. Renshi Karunkumar Tirpude, Black Belt 5th Dan, Karate Budokan International, proposed a vote of thanks.