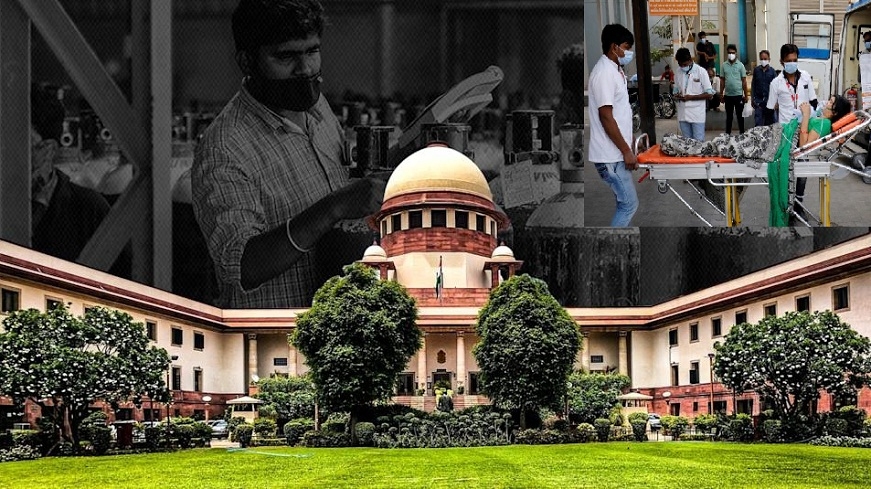 NEW DELHI :
ON A day when India recorded 3.14 lakh COVID cases and over 2,104 deaths in a day, the Supreme Court on Thursday took suo motu cognisance of COVID management and sought a national plan from the Centre on supply of oxygen, essential drugs supply and method and manner of vaccination and said, the present situation is like a 'national emergency'. A bench headed by Chief Justice S A Bobde said: "We want to see a national plan on the issue." The bench also appointed senior advocate Harish Salve as amicus curiae in the matter. The bench said: "We want to know in regard to the four issues: supply of oxygen, supply of essential drugs, method and manner of vaccination. And, we want to keep the power to declare lockdown with the States."
The top court took cognisance of COVID management, when High Courts across the country are hearing petitions in connection with crisis of oxygen supply, hospital beds and shortage of the anti-viral drug Remdesivir in hospitals. The bench noted that six High Courts -- Delhi, Bombay Sikkim, MP, Calcutta and Allahabad -- were dealing with issues related with COVID management and it was creating confusion. The court said: "We as a court wish to take suo motu cognisance of certain issues.
They (High Courts) are exercising jurisdiction in best interest. But it is creating confusion and diversion of resources." The Chief Justice observed, "the present situation is like national emergency." It noted that drugs, oxygen and vaccination availability and distribution are being carried out by the Governments, including the Centre, according to the protocols established by the health authorities. "Nonetheless, it seems that a certain amount of panic has been generated and people have invoked the jurisdiction of several High Courts in the country seeking various reliefs such as Delhi, Bombay, Sikkim, MP, Calcutta, Allahabad and Gujarat," it said.
The bench said, the High Courts have passed certain orders which may have the effect of "accelerating and prioritising the services to a certain set of people and slowing down the availability of these resources to certain other groups whether the groups are local, regional or otherwise." The bench further said, "Prima facie, we are inclined to take the view that the distribution of these essential services and supplies must be done in an even handed manner according to the advice of the health authorities which undoubtedly take into account relevant factors like severity, susceptibility, the number of people affected and the local availability of resources." "We expect the Central Government to place before this court a national plan for dealing with the above services and supplies during pandemic," it said, adding, "The notice shall be made returnable tomorrow".