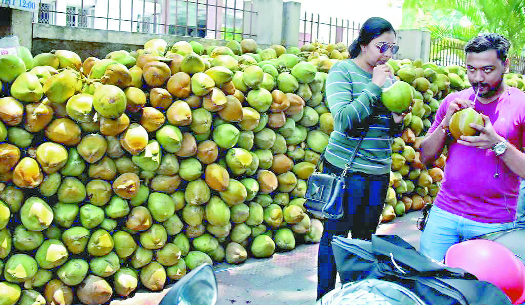 The oval shaped coconut due to its high nutritional value is in great demand these days. As a result the coconut prices have almost doubled in the wholesale market. The coconuts are being quoted at Rs 40 to Rs 45 per piece in the Kalamna wholesale market, as compared to Rs 20 to Rs 25 per piece before one month.
"High demand for coconuts has lifted the prices in the wholesale market," said Anand Dongre, President of Nagpur Fruit Dealers Association while speaking to The Hitavada.
He further said that on an average daily about 8 to 10 trucks arrive at the Kalamna wholesale market. Each coconut truck contains about 8,000 to 10,000 pieces. The demand is so high that these coconuts are sold out within a hour at the market. The coconuts are transported from different parts of south India to Bangaluru and from their they come to Kalamna marketyard. The arrivals of the coconuts are mostly consumed in the local market.
The state of Kerala is the top coconut producer in India. The state, along with Tamil Nadu and Karnataka, account for nearly 85 per cent of the country's total output. Another reason for the surge in demand is that natural coconut water contains nutrients which are healthy for the body. Health conscious people are taking natural foods in a big way to stay fit. The city is witnessing a rise in COVID-19 cases and coconut water is being consumed by large number of people to give boost to their immune system.
Apart from this, during the summer months coconut water is consumed as it can reduce dehydration in the body.