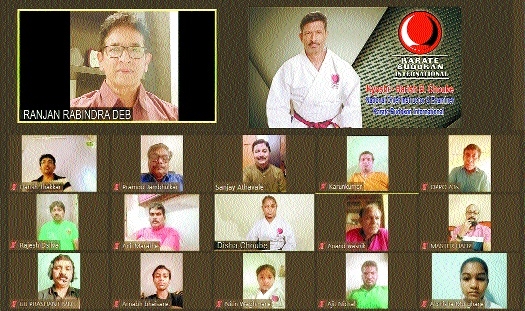 Sports Reporter :
THE 10th session of online Karate and Sports seminar for physical and spiritual development of the students was conducted on Saturday. The 15-day long webinar is being organised by Karate Budokan International (Vidarbha Region) and hosted by Kyoshi Harish Choube. National Chief Instructor and Examiner Karate Budokan International and Sports Coordinator. On the topic of 'Simply-Fit', Ranjan Rabindra Deb — a fitness and rejuvenation consultant and an expert in abdominal fat redistribution, started out by saying that Simply-Fit is a concept where one practices the 'Magic of Thinking Myself Healthy'. One needs to follow the 'Trinity of Health' which consists of the following three concepts — Shabde Brahma, Sharire Madhyam and Karme Shadhanam. Shabde Brahma means always speaking positive things about oneself and others around us. He elucidated that just as one drop of white paint when mixed with a litre of black paint does not effect its colour but if one drop of black paint when mixed with a litre of white paint makes it turn grey in the same way a bit of negativity can ruin the aura of positivity around us and keep us from achieving our goals, said Deb who is at present Director of Augment Skills Management Consultants.
The second concept of Sharire Madhyam consists of three subpoints — sound sleep, balanced diet and regular exercise. If one follows proper diet and does regular exercise then he is bound to reduce his stress related to his work or relationship and end up getting good sleep most of the time. He emphasised that last but not the least the third concept Karme Shadhanam states that our work related to our day to day responsibilities at home and at our workplace is equal to our daily responsibility of worship of our god almighty as god wants us to help ourselves and others by fulfilling our karmas, our earthly responsibilities toward our work and also helping ones own family. If one is able to do all the above timely and judiciously then one is bound to be Simply-Fit both mentally and physically. Second Session of the day was to answer queries on meditation by Renshi Sanjay Athavale, Director, Spiritual Solutions, Reiki Divine, BIMA, Ex-Govt of India and Govt of Maharashtra State Service Gr A Officer.
A question was asked as to how to meditate before a tournament. Athavale clarified that it can be for any event like a presentation, tournament, speech where our earlier practice of meditation is helpful, we start with a mental recollection of earlier preparation which prompts out memory and brings us to that composed, confident state of mind. So a brief meditative state is what is enough while performing, which of course is possible due to earlier practice. There were questions on types or systems of meditation, chakras meditation, yogasans etc. All these were answered with emphasis given on integrating it into our life like all other positive things like fitness, sports/arts to have continuing personal development. It was also told that every individual can evolve his own personal method of meditation, the basics remaining the same. A vote of thanks was proposed by Sensei Disha Choube (Black Belt 2nd Dan) Karate Budokan International.