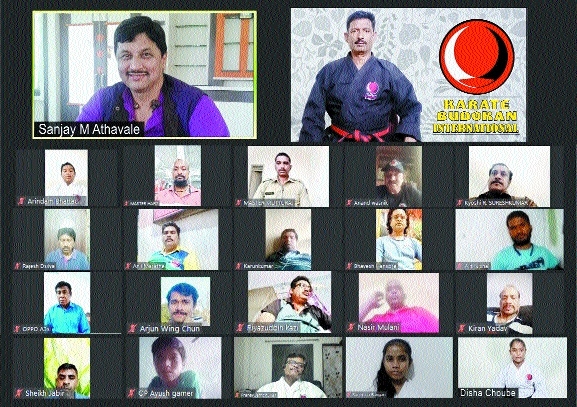 Sports Reporter :
FORMER Secretary of Maharashtra Taekwon Do Association (ITF) Renshi Virendra Lautkar said Chi Kung (also known as Qi Gong) is an energy that enhances mental and physical capacities. Lautkar was the guest lecturer at the ongoing online seminar on Karate and Sports. He was speaking on the topic Chi Kung (Qi Gong): The way of energy and the way of healing. The event is being organised by Karate Budokan International (Vidarbha Region) with Kyoshi Harish Choube, National Chief, Instructor and Examiner Karate Budokan International and Sports Coordinator being host of the show. Chi or Ki or life force energy is an integral part of every living being. Unlike anatomy, physiology it is not easy to understand. However, being a type of energy, we can learn to utilise this effectively for our betterment. Chi Kung or Qi Gong is a combination of physical movements and is an active meditation technique to enhance mental and physical capacity.
We are aware of Shaolin Monks performing astounding physical feats which are based on their study and application of this energy, said Lautkar, who is also Director of Martial Life. The traditional healing methods are also based on the study and use of Chi. An expert can control flow of Chi in the body giving desired applications and results, he added. Renshi Sanjay Athavale, Director, Spiritual Solutions, Reiki Divine, Budokan Institute of Martial Arts Mumbai Maharashtra, was the second speaker of the day. Athavale stated that happiness is a state of mind. It is not dependent on any external factors or persons. The other aspects of personal development like balanced mind, positive approach, clear and good intentions, good behaviour, healthy and strong mind help us in attaining a happy state of mind. The quality of actions is important and their quantification is immaterial or unimportant.
The good actions including external facade should be according to the situations in which one is acting or reacting. Happy state of mind affects our body positively, while a healthy mind occupies a healthy body, so this good circle of mind body coordination and mutual support is holistically beneficial. In whatever age, profession, activity, social or official interaction we should cultivate this happy state of mind, unaffected by the negative or unsupportive actions of others. Thus by making the happy state of mind as the central behaviour, action, reaction every moment, our whole life becomes wonderful, Athavale explained. By regular practice of meditation, exercise, sport or art activities, it becomes easier for us to attain happiness. This in turn gives us ease in performing such activities.
Every individual can evolve her own personal method of lifestyle, depending on her background, situations or goals as also from inspiring personalities and their life stories. A strict denial of any wrong things like intoxicating substances, for self and others was stressed. Real happiness is our own creation, independent of any external forces, he concluded. The session ended wishing happiness to all. A vote of thanks was proposed by Renshi Karunkumar Tirpude of Karate Budokan International.