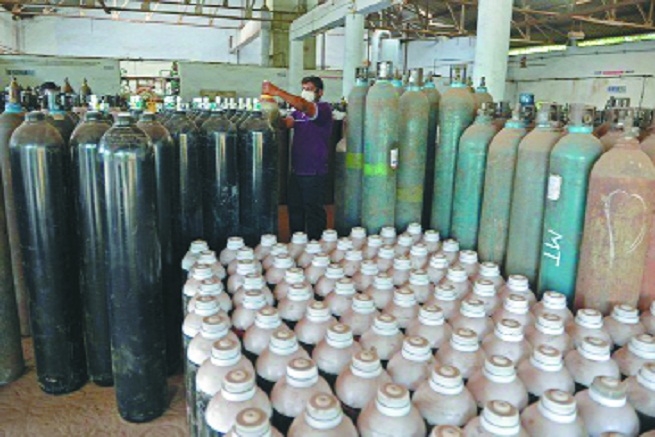 Business Bureau :
While the nation is fighting a battle against the novel coronavirus, industry bodies in Vidarbha region on Monday came forward to help the authorities. A Joint Coordination Committee comprising various associations are exploring opportunities to ramp up oxygen supply in the region. The committee has appealed to the industrialists to surrender all the oxygen cylinders lying idle in their units so that the same could be used in the various hospitals. The office-bearers of the Vidarbha Industries Association (VIA), MIDC Industries Association (MIA) Hingna, Butibori Manufacturers Association (BMA), Confederation of Indian Industry (CII) Nagpur Chapter, Kalmeshwar Industries Association (KIA), Dalit Indian Chamber of Commerce & Industry (DICCI) Vidarbha Chapter and Laghu Udyog Bharati (LUB) Nagpur have also appealed to the mega units to offer their liquid oxygen storage facility to the Government authorities so that it could be stored here. "As of now, most of the units are shut down and at many places the oxygen cylinders are lying idle. We have asked the units to surrender these cylinders as early as possible.
This will certainly bring in more cylinders in circulation and eventually help the authorities in streamlining its supply," said Suresh Rathi, President of VIA. Pradeep Khandelwal, President of BMA, said that the committee is also exploring opportunities to extend logistic support for transportation of oxygen and other technical support to speed up oxygen supply. "The industrial fraternity is committed to extend full support to the authorities during this crucial phase of COVID-19. We are aware that the ongoing second phase is very critical where the requirement of oxygen has shot up manifold," he said.
"For other details, we hereby request all the members to immediately contact either VIA office BMA, MIA, KIA, CII, JD of DIC or Collector Office, Nagpur. Let us all respond to this call whole-heartedly and save lives," Khandelwal told the members. Suresh Rathi, President – VIA, C G Shegaonkar, President – MIA, Pradeep Khandelwal, President – BMA, Ranjit Singh Chairman - CII, Amar Mohite, President – KIA, Nishchay Shelke, President - DICCI Vidharbha Chapter and all joint coordination committee members are playing active role in the initiative. For last several days, demand for oxygen has been growing at an alarming speed and authorities are making efforts to ensure uninterrupted supply of oxygen. However, shortage of cylinders, lack of storage facilities and shortage of tankers are causing disruption in oxygen supply. In Vidarbha region, people are running from pillar to post for oxygen cylinders.