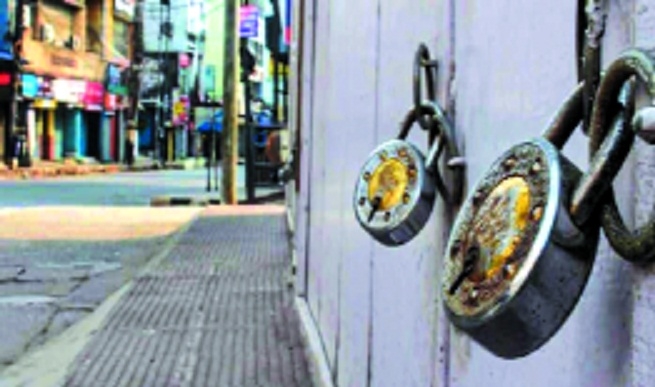 Business Bureau :
The lockdown in many States in the country has caused a business loss of about Rs 5 lakh crore in past 25 days due to Covid pandemic and subsequent restrictions including night curfew, weekend lock down, partial lock down and full lock down. Out of Rs 5 lakh crore business loss, the retail business of about Rs 3.5 lakh crore and wholesale business of Rs 1.5 lakh crore is estimated to be affected.
Sharing this information on Tuesday, the Confederation of All India Traders (CAIT) said that due to the fear of Corona, about 80 per cent of the people across the country have stopped visiting the markets. The loss in business has been estimated by the CAIT Research Wing, the CAIT Research and Trade Development Society on the basis of feedback received from trade leaders of different States. CAIT National President B C Bhartia and Secretary General Praveen Khandelwal said that COVID-19 has proved much disastrous to commercial and economic activities all over the country. In past 25 days, there has been a loss of Rs 5 lakh crore business across the country while Delhi alone recorded a business loss of more than Rs 25 thousand crore out of which there is a loss of about Rs 15 thousand crore of business in retail trade and a business loss of about Rs 10 thousand crore to wholesale trade. It has been seen that people are avoiding visiting the shops and for their usual need items are ordering through e-trade. Not only the consumers but traders are also very terrorized by coronavirus.
Bhartia and Khandelwal said that the figures of loss in business are collected from the feedback of prominent trade associations from the 14 States which include Maharashtra, Delhi, Uttar Pradesh, Kerala, Karnataka, Gujarat, Madhya Pradesh, Andhra Pradesh, Tamil Nadu, Rajasthan, Chhattisgarh, Jharkhand, Orissa, Bihar etc. No study so far has been conducted in West Bengal, North Eastern States, Punjab, Haryana, J&K, Goa and others.
The figures have been compiled and estimated after studying the COVID-19 restrictions, customer behaviour and market conditions. Bhartia and Khandelwal said that CAIT is starting an online survey across the country from Wednesday which will be continued till April 29 in which opinion of traders and common people will be obtained on the current status of corona and available medical facilities, whether traders further need lockdown or what can be the other alternatives in lieu of lockdown. CAIT is also holding a video conference of trade leaders of all states to elicit their views on the current situation arising out of COVID-19.