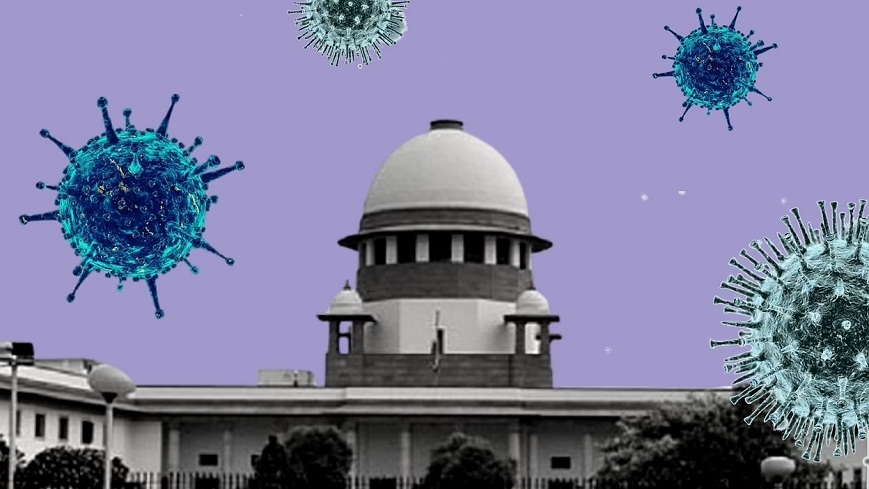 NEW DELHI :
SC was hearing the suo motu case on COVID management in the country
TERMING the massive resurgence of COVID-19 cases a "national crisis," the Supreme Court Tuesday said it cannot remain a "mute spectator" and made clear that its suo motu proceeding on devising national policy for COVID-19 management is not meant to supplant High Court hearings. The Supreme Court was hearing the suo motu case on COVID management in the country. A bench headed by Justice D Y Chandrachud said the High Courts are in a better position to monitor the pandemic situation within their territorial boundaries and the apex court was playing a complementary role and its "intervention must be understood in the correct perspective" as there are some matters which transcend the regional boundaries.
There is a need for top court's intervention on certain national issues as there might be matters related to coordination between States, it said. "We are playing complementary role. If High Courts have any difficulty in dealing with issues due to territorial limitations, we will help," said the bench, also comprising Justices L Nageswara Rao and S Ravindra Bhat. Meanwhile, the Centre on Tuesday told the Supreme Court that medical oxygen in any country cannot be unlimited and with the active and constant supervision of the Prime Minister it is augmenting the oxygen supply on a war footing to provide relief to COVID-19 patients.
These observations assume significance as some lawyers had criticised the apex court last Thursday for taking suo motu cognisance of the pandemic's resurgence and issues by saying that High Courts be allowed to continue with hearings. The Centre has refuted suggestions that "nothing" was done after the first wave of coronavirus pandemic and it was caught unawares by the second surge, asserting that all-out efforts are being made on a war footing to make available enough oxygen to hospitals and augment the production of Remdesivir.
This was stated in an affidavit submitted before the Supreme Court by the MHA in the case related to the "distribution of essential supplies and services during the pandemic", official sources said. The MHA said there has been a "false narrative" that after the onset of the COVID pandemic, during its peak impact and thereafter "the nation did nothing and is caught unawares in the second surge". A day later on April 23, a bench headed by the then CJI S A Bobde, who has retired, took a very strong exception to "unfair" criticism by some lawyers for "something which was not part of its order" in the suo motu case related to framing of national policy on the COVID-19 pandemic.