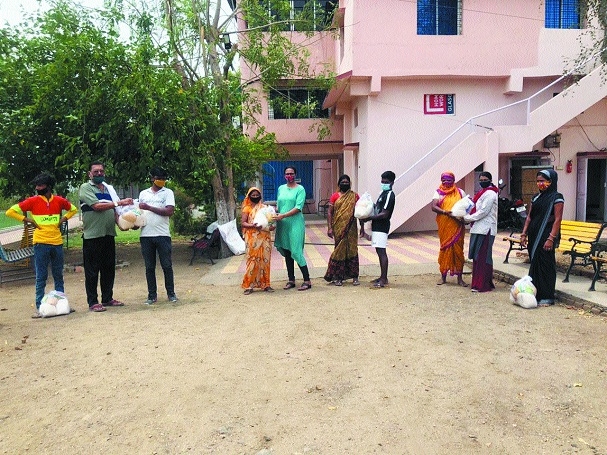 Slum Soccer recently distributed food materials and other essential items to locals.
Principal Correspondent :
WITH Nagpur again witnessing partial lockdown, members of Slum Soccer partnered with Street Football World for addressing the situation by providing ration kits to the nearby community areas in Nagpur. Under the initiative 'Ration Distribution Drive' the organisations undertook food relief measures for migrant workers and daily wage labourers. Following the pandemic and subsequent lockdowns in Maharashtra, Slum Soccer has undertaken the initiative to provide food to the underprivileged that have been the most affected by the ongoing health and financial crisis.
"A loss of daily wages due to COVID-19 restrictions and another lockdown leaves the urban poor dependent on charity. The Slum Soccer coaches surveyed slum communities where they teach football in Nagpur found that the families are drastically affected by the second wave of COVID-19," said Prof Vijay Barse, founder of Slum Soccer. Most of the marginalised, including the homeless, poorly paid daily wage labourers' community, are already down to one meal a day.
The organisation has donated more than 50 food ration kits to the families from where they are working and implementing football programmes in Nagpur. "We have always worked with the aim of reaching out to the Indian slums using football as a tool for social improvement and empowerment," he added. Pankaj Mahajan, Devika Sen and Amit Shinde were the volunteers.