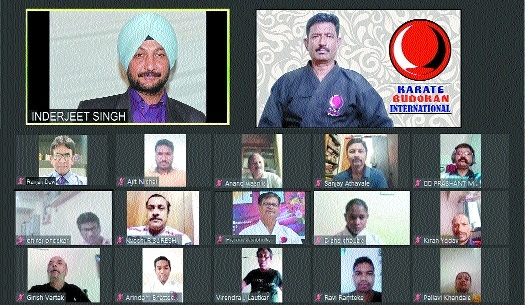 Principal Correspondent :
"Team sport provide athletes with natural community. Youth who play sports have higher levels of social support, and the sense of community created with team-mates, coaches and family members incubates the perfect setting for critical self-esteem development," said former international handball player Inderjeet Singh Randhawa. The former India coach and Shiv Chhatrapati award winner was speaking during the ongoing Karate and Sports Seminar for Physical and Spiritual Development of players.
Competence, confidence, connections, character, and caring are all aspects in team game.
The seminar is organised by Karate Budokan International (Vidarbha Region) and hosted by Kyoshi Harish Choube, National Chief Instructor and Examiner, Karate Budokan International and Sports Coordinator. "Team sport bolsters the five Cs: Competence, Confidence, Connections, Character, and Caring. At the heart of this is self-esteem – an increased sense of self as a result of better social interactions, stronger relationships, and higher academic performance," said Randhawa. "The opportunity to participate in team sport provides athletes with valuable skills that will take them beyond the field, pitch, and court," Randhawa elaborated.
"There are advantages to participating in team games. It helps build strong relationships, helps develop critical thinking skills, develops character, builds perseverance, builds leadership skills, teaches collaboration, teaches discipline, helps control emotions, make one realise the value of hard work, develops interest in multiple sports, increases self- esteem, makes a player realise that life is tough sometimes and isn't always fair, helps children learn to accept defeat, etc. The hours spent together as a team increases the camaraderie, sharing with and caring for each other creates a bonding amongst the team," Randhawa explained. Randhawa termed team coaches as doctorates in their discipline using their immense experience to guide, train and nurture the team players.
He said that a team player has multiple advantages over individual sport players. The second speaker of the day was Ranjan Rabindra Deb, fitness and Rejuvenation Consultant. Deb spoke on Trinity of Health Part I- Shabde Brahma: The transcendental sound from trinity. He said some may understand the universe as Brahma, Vishnu and Mahesh while some may construe it as the father, the son and the Holy Spirit as God is one, trinity is thy name. "Shabde Brahma is the transcendental sound from trinity, once spoken it cannot be taken back or undone. When was the last time that we hurt our mother or our loved ones? I am sure that the pain we gave was much more than a physical pain which is bound to heal with the passage of time.
"Obviously it had to be, do we not know that the word from our mouth once spoken has the equal power of the transcendental sound from trinity. This power is only granted to a human, because we are blessed, and we are blessed because of the immense hard work and the day long prayers of our forefathers," said Deb. Let us not forget that whatever we utter today gets programmed in our brain and gets handed over to our subconscious mind. Hence, if we want Good Samaritan action without hurting anyone's feelings then let us speak only good words, let us forgive those who have hurt us," concluded Deb. Sensei Arindam Bhattacharya, Karate Budokan International, proposed a vote of thanks.