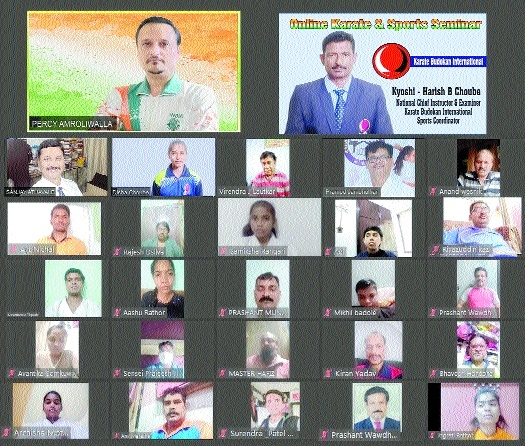 Principal Correspondent :
SPORTSPERSONS should have a vision in furtherance of sports practice and achievements. The vision should include understanding of own strengths and weaknesses, accepting them, formation of the vision and steadfastly working towards achieving it, said Percy Amroliwalla, Vice-President, Amateur 20-20 Cricket Federation (India) who is also the Secretary of The Guardians, an NGO and Sports Co-ordinator of The CDS Group of Schools. Amroliwalla was speaking during the ongoing Karate and Sports Seminar for Physical and Spiritual Development of players. The seminar is being hosted by Kyoshi Harish Choube, National Chief Instructor and Examiner, Karate Budokan International and Sports Coordinator.
The online seminar is organised by Karate Budokan International (Vidarbha Region). Amroliwalla gave example of how vision is used for sports betterment and better performance in tournaments. He also explained the conscious and subconscious mind working and how to use them in achieving the vision. "The need for having a clear vision, planning towards achieving that, working on the plan and focus on achieving it is necessary. When we play in team, sometimes, we may have to sacrifice for the team's success. The coach, being experienced, can guide and it is prudent to follow the instructions. Though we may sacrifice individual performance, we can share in the team's success. This is like enhancing the envisioned goals," explained Amroliwalla. Renshi Virendra Lautkar, Black Belt Godan (Ryu Kyu Shorin Ryu Gesshinkai) and former Secretary of Maharashtra Taekwon-Do Association (ITF), Director of Martial Life spoke on 'Ken Zen Ichi Nyo' (Body and Mind are One).
The Japanese phrase means sword mind oneness. This idea/principle has a historical legacy since the times of Shoguns, Samurai in Japan. "The sword (ken) was universally used as weapon then. In this context it refers to the physical body. Zen (Dhyan, Chuan) or mindfulness is the meditative method. When both are used in harmony, bringing them together in practice, it gives great results," Lautkar told the sportspersons attending the webinar. "Like Yin and Yang both are complimentary to each other. These practices are still prevalent in some of the present day Martial Art trainings," he mentioned. Renshi Lautkar also mentioned systems like Vipassana which uses mental faculties to study, observe the body and bring about combined holistic development of any sportsperson. Thus the mind and body work in tandem supporting each other. Renshi Lautkar acknowledged that he focused on this topic due to the participation of other participants. Renshi Sanjay Athavale, Renshi Pramod Jambhulkar, Kyoshi Harish Choube said that weather in sports or life one has to work hard. Hard work is appreciated but in the end, results matters. So, one must dedicate all their energy in hard work leading to flourishing results.
Renshi Virendra also shared about the principle of mind body unification towards developing intuitive among players. Renshi Athavale gave example of natural healing systems like Reiki, magnified healing etc. which can be used for healing injuries to players. The seminar was concluded by an interactive question and answer session where in the young asked their doubts. The vote of thanks was proposed by Renshi Karun Kumar Tirpude (Karate Budokan International).