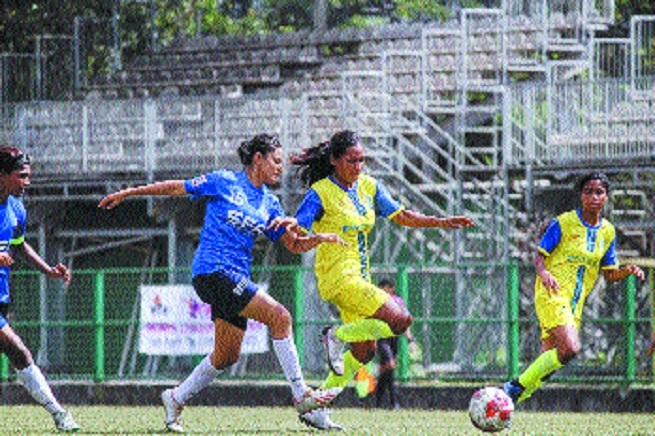 Amma FC, Nagpur's Nazah Mistri (L) tackles Footie First, Mumbai's Jyoti Chouhan during their match at Cooperage Stadium in Mumbai on Saturday.
The Nagpur team lost to Mumbai District champions Footie First 7-0
Mah Zone Women's Football League
KEEPING her personal loss aside, Amma FC captain Sunita Yadav decided to play for her side against a strong rival in the ongoing Western India Football Association (WIFA) Women's Football League, played at the Cooperage ground on Saturday. The league is a qualifying tournament for the AIFF Indian Women's League (IWL). Sunita woke up to tragic news of passing away of her grandfather. But the Amma FC captain decided to keep her personal loss aside and played team's second match against Footie First. Her presence in the team was visible as Footie First FC were unable to breach the defence initially. "I got the news of the passing away of my grandfather Radhuram Yadav (90 years) in the morning. I was shattered but we had the match to play immediately.
Anyhow, I wouldn't have managed to attend the funeral hence I decided to play the game," said Sunita, who recently resigned from a PET job to play for Amma FC in the competition. Sunita returned to Nagpur in the evening and said she would decide whether to return back for the tournament, later. Though Amma FC lost the match hands down by seven goals to nil, they managed to hold their opponents from scoring more heavily, like they had in their first 14-0 win over Pacangan FC, Satara. Nagpur team played well for the first 18 minutes but an allegedly debatable foul on the edge of the box by Akansha Shelare forced referee Irfan Shaikh award a penalty to Footie First, Mumbai. Their star striker Jyoti Chouhan made no mistake in slotting the ball home in the 19th minute. "The foul took place clearly out of the rectangle. It was really a harsh decision by the referee.
That broke the tempo of our team," coach Annie Paul told 'The Hitavada'. Jyoti, who had slammed nine goals in their opening 14-0 win against Pacangan FC, Satara in the opener, scored two goals in the 38th and 45th minutes to complete her hat-trick and give Mumbai a 4-0 half-time cushion. But despite Jyoti scoring a hat-trick, Amma FC defence tried their best to hold the prolific player and frustrated her at times over the defence line. Jyoti was on the target once again in the 54th minute and Mamta Kumari added another in the 81st to make it difficult for Amma FC to make a comeback. With hopes diminished Amma FC replaced goalkeeper Bhuneshwari Pendam with Stanzin Tsomo in the 84th minute but Jyoti managed to squeak one past her, too, a minute before final whistle. Coach Annie, despite her team losing heavily, was all praise for her side.
"I know that it is a big loss but I am proud of the girls. They really played well. Once again, the lack of combined practice was visible. But they will bounce back in the next three games," said Annie. In another match, Mumbai district runners-up PIFA FC thrashed Pacangan FC, Satara 11-0. Sasmita Behera (2nd, 27th, 42nd, 53rd, 84th), Marbarin Nongrum (24th, 50th), Betsheba Kharsyntiew (63rd, 88th) and Renu Bala (35th) scored the goals. In last match of the day, Kenkre FC, Mumbai thrashed Next Sports Academy, Palghar 9-1. Techi Kkung (8th, 15th, 19th), Harshika Jain (43rd), Ritika Goveas (12th), Komal Badgujar (16th), Kavya Jaiswal (80th, (90+3), Nabam Kamyi (85th) were the scorers for the winners. For Palghar, Purva Kamble (14th) scored the consolation goal.