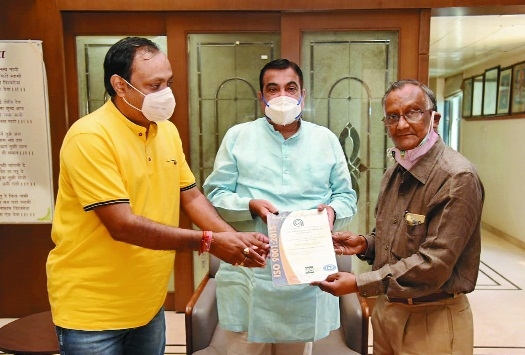 Union Minister Nitin Gadkari giving the ISO 9001: 2015
certificate to Ashwin Mehadia and B C Bhartia.
Business Bureau :
NAG Vidarbha Chamber of Commerce (NVCC) has received the ISO 9001:2015 certification. On the occasion, Nitin Gadkari, Union Minister Minister of Road Transport and Highways and Minister of Micro, Small and Medium Enterprises handed over the certificate to Ashwin Mehadia, President of NVCC and B C Bhartia, former President of the Chamber. Mehadia said, " The Chamber provides the 'Certificate of Origin' to the exporters required by the Government for the export of local goods from the past several years.
For this service the Chamber has now received the ISO 9001: 2015 certification." B C Bhartia said, "NVCC has made an outstanding contribution in expanding business in Vidarbha. The credibility of 'Certificate of Origin' increases due to ISO certification."