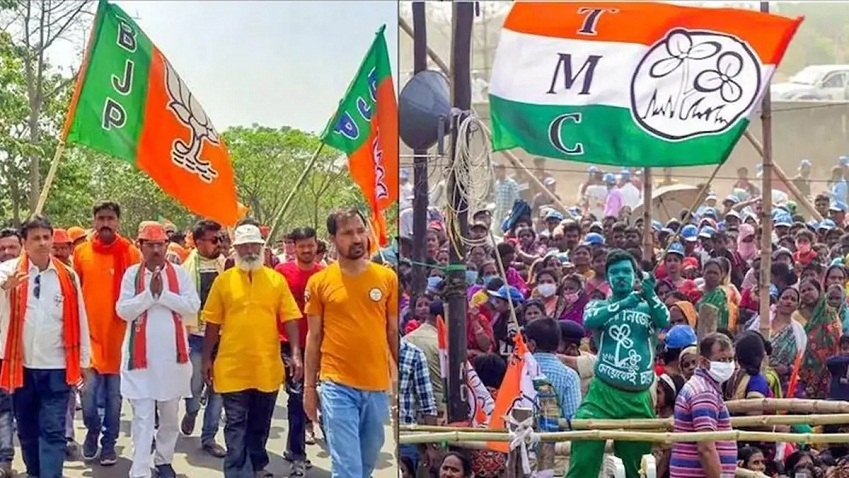 A police constable brings women for COVID-19 test after they were caught without wearing face masks in Jammu on Sunday. (PTI)
Guwahati/Kolkata/Chennai :
Campaigning came to an end for Assembly elections in Tamil Nadu, Kerala and Puducherry and third phase of polling in Assam and West Bengal. While single phase polling will be held in Tamil Nadu, Kerala and Puducherry on Tuesday, Assam is witnessing three-phase voting, and that of West Bengal eight phases. Third phase of polling in Assam and West Bengal will be held on Tuesday. Both BJP and Congress conducted massive campaigns to reach out to maximum voters in all the 5 States.
In Assam, BJP leaders campaigning in the State claimed that they reached the magic number to form the Government in the first two phases and with the voting in the last phase they will form the Government in Assam with a thumping majority. Total 337 candidates for 40 seats are in the fray in the last phase of elections in Assam. Polling for the third and final phase will be held on April 6 and the counting of votes will take place on May 2. In West Bengal, over 40 lakh electors will choose their representatives from over 122 candidates. Polling will be held on Tuesday in 31 Assembly segments spread over districts of Hooghly, Howrah and South 24 Pargana.
The high-octane poll campaign for Tamil Nadu Assembly elections being held in a single phase on April 6 came to an end at 7 pm on Sunday. Polling across 234 Assembly constituencies in 38 districts of Tamil Nadu will begin at 7 am on Tuesday. A total of 3,998 candidates are in the poll fray. In view of COVID-19, the number of polling stations has been increased to 88,937. The month-long campaign for Kerala Assembly elections draws to a close on Sunday evening. Total 140 seats will go on polls in Kerala with 957 candidates in fray. Campaigning for Assembly polls in Puducherry ended on Sunday with all the players including the NDA and Congress-DMK alliances putting in their best efforts to woo voters in 30 Assembly seats for the polls on April 6. The Union Territory is witnessing a tough battle essentially between these two alliances.