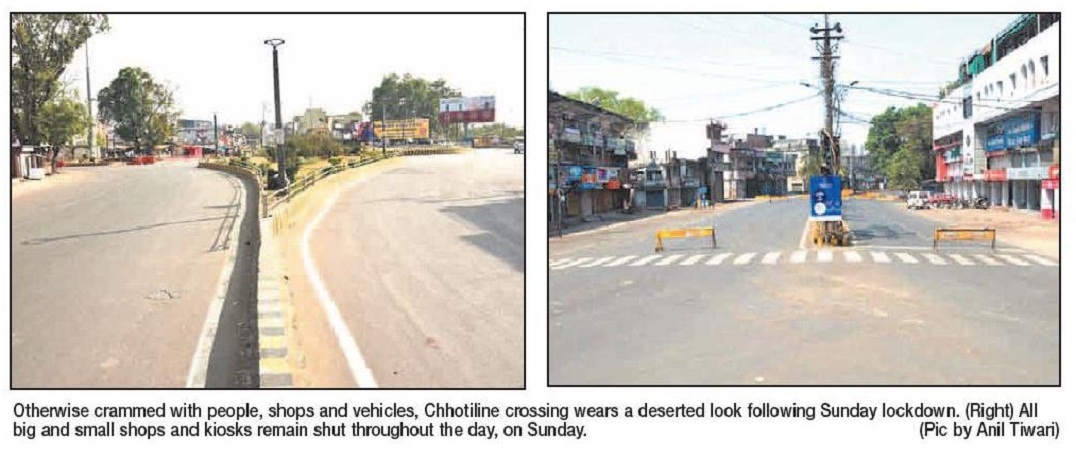 Staff Reporter :
Giving a serious thought to the alarming surge in COVID-19 cases in Madhya Pradesh, the State Government has imposed a day's lockdown in major cities including Jabalpur, on Sunday. The step is taken to control further spread of coronavirus infection.
The third Sunday lockdown was peaceful in the city. People remained in their homes only. Business class people also kept their establishments closed. Except emergency services all activities were restricted totally. In view of the spurt in coronavirus cases, the Government is clamping lockdown in major cities of the State on every Sunday. Accordingly, the lockdown comes into force at 10 pm on every Saturday and remain effective till 6 am on Monday. Due to the lockdown, all big and small shops remained closed.
The emergency services like hospitals, metro buses etc., were remain unaffected. As per Government's directions during the lockdown period, daily activities, private and government organizations, shops, hotels, establishments and all types of general movement was restricted. Except milk, chemist shops and hospitals, all types of retail and wholesale shops, all markets, clubs, gardens, restaurants, catering shops, mandis were remain closed. To make the lockdown successful, the district administration and police department had made foolproof arrangements in entire city. During the lockdown senior administrative officials including Collector, Karmveer Sharma continuously monitored the situation and remain in continuous contact with concerned officers. A number of police personnel were also deployed at every square and crossings to avoid violation of the lockdown. Senior officials were also on toe to maintain law and order situation in the city.