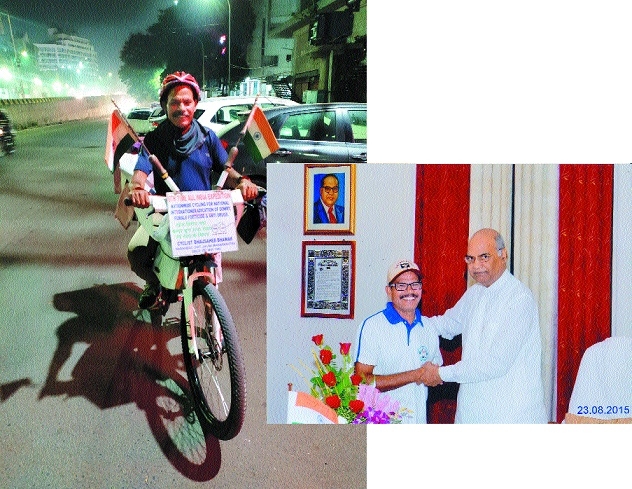 Bhausaheb Bhawar on his cycle sporting India flags and placard with messages. On his way to Kashmir from Ahmedabad, Bhawar was snapped at Nagpur. (Inset) with India President Ramnath Kovind, who was the then Governor of Bihar. (Pic by Satish Raut)
Sports Reporter :
Jalna cyclist Bhawar wants to eradicate social evils; visits Nagpur on his Ahmedabad-Kashmir tour
A CAREFREE cyclist from Jalna, Maharashtra is on a mission to eradicate social evils like dowry and foeticide and to spread message of national integration and communal harmony. Bhausaheb Bhawar's, who hails from a small place Hasnabad in Jalna district, only aim is to educate people on these sensitive issues riding on his cycle across the length and breadth of the nation. On one of his numerous tours, this time from Ahmedabad in Gujarat to Kashmir, Bhawar was in the city for a couple of days recently.
"It has been over two decades that I am cycling across the length and breadth of the country with my mission — eradicating social evils like dowry, foeticide and to spreading message of national integration and communal harmony. I also talk to youths on drug addiction, cleanliness corruption and eating habits. I have no home, no mobile number and no bank account. Wherever my cycle stops that is my residence for that day," he said about the mission and himself while talking to 'The Hitavada'. Bhawar took the mission after his family had to pay a huge sum as dowry to get his sister married. "Women should stand up for their right. I want to change mindset of the people. Dowry Prohibition Act by itself doesn't deter the people from receiving and giving dowry.
We all have to be part of that mission," he asserted. When asked about his job and what he does to survive, Bhawar said, "It is His (the almighty) duty to take care of me. If you have a pure heart and a conscious mind, you will always get good people around you who'll take are of your requirements," he got philosophical. Bhawar has a big file with certificates and pictures with national leaders and celebrities.
"There are ways of approaching to meet big political figures like Governors or Chief Ministers. There is one channel through local police and the other is through Army. I always prefer the latter. Our Army is great and so are its people. Even in your city, I have been provided accommodation by a Brigadier Sir in NCC Guest House," said Bhawar. The cyclist is never in a hurry and has never been involved in any untoward incident since he took his first ride in 1993. "I generally ride from 50 to 60 kms per day but when distance between the cities are large, I can ride 80-90 kms per day. I set for my journey with sunrise and never ride on nights. I have never been involved in any sort of accident by the grace of god," he signed off pressing his foot on the pedal...ready for the journey ahead.