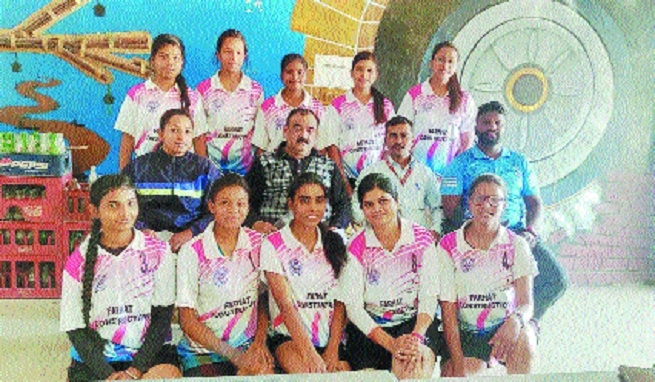 Players of Chhattisgarh State women's team along with coach and officials pose for a snap shot.
Sports Reporter :
CHHATTISGARH Ball Badminton women's team, who defeated Maharashtra in the quarter-final, secured third position in the Sixty-sixth National Ball Badminton Championship that concluded in Rajasthan recently. In the semi-final match, CG women were defeated by Tamil Nadu 35-30, 35-28 in straight sets. Earlier, by defeating Maharashtra in their quarter-final, the Chhattisgarh state women's team had made their way into the semi-final round. In the quarters, CG women beat Maharashtra in two straight sets 35-21, 35-23 to secure their berth in last four.
CG State women team included Amrita Singh, Pooja Sahu, Rita Oraw, Divya Patel, Parwati Thakur, Kalpana Sahu, Suhani Ghode, Shagun Singh, A Parwati and Tikeswari Sahu along with K Mohan as coach and Kritika Adil as manager. On the other hand, the state men's team got defeated by Karnataka in the quarter-final round. The men's team comprised S Rahul, Ranvijay, Bhushan Sahu, Prabhat Seth, Gajendra Yadav, Neelesh Pandey, Pawan Deep, Dinesh Yadav, and G Surya Rao along with Venkateshwar Rao as coach and Mukesh as manager. This information was furnished by Y Raja Rao, Secretary of Chhattisgarh Ball Badminton Association.