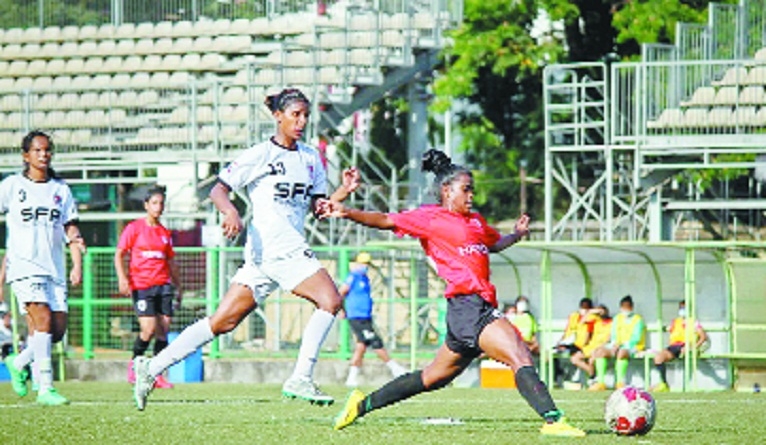 An Amma Football Club, Nagpur (in white) chases a PIFA Sports Club, Colaba player.
By Paritosh Pramanik :
AMMA Football Club, Nagpur slumped to their second straight defeat in the ongoing Western India Football Association (WIFA) Women's Football League at the Cooperage ground on Monday. The league is a qualifying tournament for the AIFF Indian Women's League (IWL). Now, the tournament has been put on hold due to lockdown in State. The loss hampered Amma FC's chances of qualifying for the semi-finals.
In their third match of the tournament, they were stunned by PIFA Sports Club, Colaba, Mumbai by three goals to nil. Though it was a much improved performance by the Nagpur girls, they could not hold the opponents and failed to score from their chances. Nagpur played well for most of the first half but a small gap in defence in the dying minutes of the first half gave PIFA the lead through Bhagwati Chauhan. On the stroke of half-time, another goal was scored by Iawanlang Nonbet as the Mumbai district runners-up stretched the lead.
The second half also saw Nagpur team play good defensive game but Sasmita Behera managed to sneak one in the middle period of that half to make it 3-0. Nagpur's Annie Anthony and Sneha Uikey tried hard to reduce the margin but missed the chances. In other matches, Footie First consolidated their position on top with a thumping 17-0 win over Next Sports while India Rush beat Pacangan, Satara 7-0.