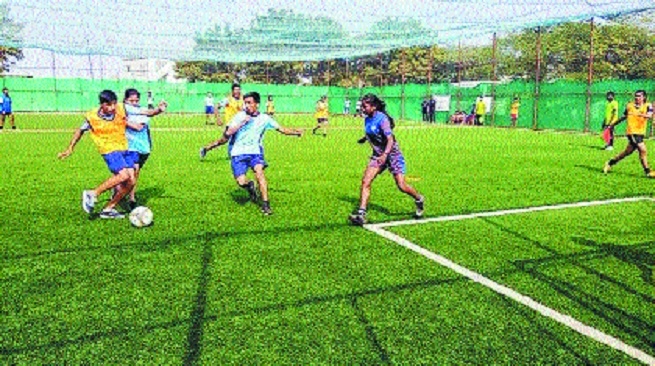 Slum Soccer players engaged in a friendly six-a-side soccer match to mark International Day of Sport for Development and Peace (IDSDP) at its Bokhara Centre in Koradi.
By Paritosh Pramanik :
April 6 was declared as the International Day of Sport for Development and Peace by the United Nations (UN) General Assembly in 2013
MOVING forward with its aim to give opportunities to poor and needy people to grow and develop themselves with the help of sports and arts, Slum Soccer is celebrating International Day of Sport for Development and Peace (IDSDP) at its Bokhara Centre in Koradi. The International Day of Sport for Development and Peace is celebrated on April 4-6 and it presents an opportunity to recognise the role that sport and physical activity plays in communities and in people's lives across the world. A football tournament has been organised for the students of the locality. Slum Soccer is teaching the importance of vaccination and how to keep themselves safe from the deadly virus by maintaining proper hygiene, covering face with mask and washing hands regularly.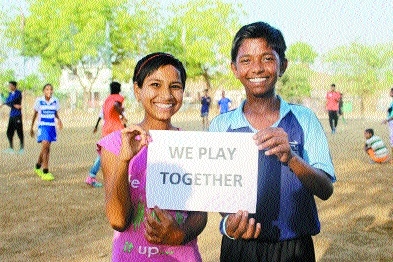 Two young Slum Soccer
enthusiasts holding a placard.
"COVID-19 pandemic has made it difficult to gather as friends, for teams and fans to compete, play and cheer together. It has taken a toll on individuals, societies, organisations and economies. Measures put in place to defeat the pandemic have touched every aspect of our lives, including sport," Slum Soccer CEO Abhijet Barse told 'The Hitavada'. Through sports, Slum Soccer is teaching team building, equality, inclusion and perseverance. "Sport and physical activities can also help us get through times of crisis, like COVID-19, by reducing anxieties and improving physical and mental health. Sport activities and events have been particularly affected by the restrictions imposed in countries around the world. Despite these challenges, IDSDP remains a great opportunity for the sport and development community to showcase the ways sport has been helping countries, communities and individuals to navigate through these challenging times and build back better," said Barse.
The key theme for IDSDP 2021 is resilience and the need for sport to help societies build back better. This includes the need for vaccine equity which is part of the UN campaign for IDSDP. "At Slum Soccer we are engaging children through football and fun team building activities in different slum communities in Nagpur, Pune, Delhi and Chennai. With a series of activities scheduled between March 4 and 6, the IDSDP 2021 is helping participants learn essentials skills to fight pandemic and regain momentum in this difficult time. The organisation is conducting football games based on team building and resilience through physical activities.
"We are also engaging children through art and painting sessions to help them discover how sports can play a role in building peaceful communities," Barse added. "We are also conducting online yoga online sessions for girls to help them understand the benefits of physical and mental health. As Slum Soccer believes in inclusion of everyone in sports, we would be including our deaf participants to join in an online physical fitness session," informed Barse. Through games and online sessions Slum Soccer will be teaching children the ideology that everyone is equal and that life can be enjoyed to its fullest when lived in peace with one another. "When everyone is at peace, happiness can be experienced by all," Barse concluded.