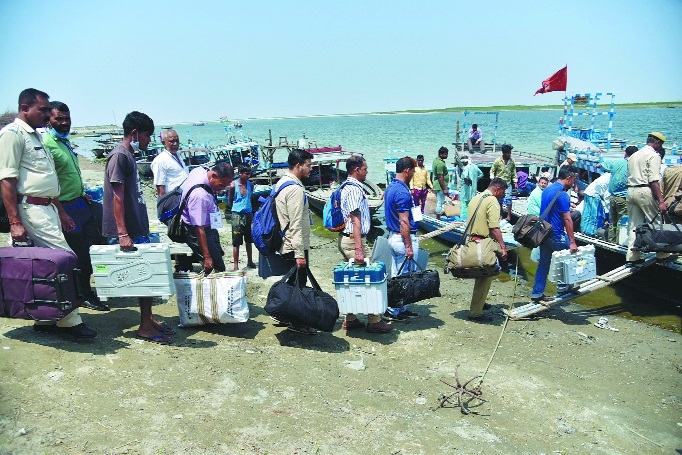 Election officials travel towards their polling stations on the eve of 3rd phase of Assam Assembly election, at Chaygaon in Kamrup district on Monday. (PTI)
NEW DELHI :
Tamil Nadu, Kerala and Puducherry will witness single-phase polling on Tuesday, while Assam and West Bengal will undergo third phase of polling.
SINGLE phase polling will be held in Tamil Nadu, Kerala and Puducherry on Tuesday, while Assam and West Bengal will vote for third phase. Both BJP and Congress conducted massive campaigns to reach out to maximum voters in all the 5 States. As the third phase of the high-stakes West Bengal Assembly elections is set to commence, a total of 832 companies of central security forces have been deployed in the constituencies to ensure a peaceful election. Out of these, 214 companies of Quick Response Teams (QRTs) will be present in the third phase.
The voting in this phase of elections will be held in 31 Assembly constituencies in three districts - eight in Hooghly, seven in Howrah and 16 in South 24 Parganas. There are 205 candidates in the fray in this round of polling, with Diamond Harbour having the maximum number of candidates at 11. Assam is all set to witness direct and triangular contests in 40 Assembly constituencies that are going to polls in the last of the three phases on Tuesday to decide the fate of 337 candidates, including senior Minister Himanta Biswa Sarma, his five cabinet colleagues and BJP state unit president Ranjeet Kumar Dass. Assembly elections in Tamil Nadu will be held on Tuesday and about 6.26 crore voters are expected to exercise their right to franchise. Polling across 234 Assembly constituencies in 38 districts of Tamil Nadu will begin at 7 am on Tuesday. A total of 3,998 candidates are in the poll fray.
Kerala is all set to go to polls on Tuesday with 2.74 crore voters exercising their franchise to decide the fate of 957 candidates including high-profile leaders and independents in 140 Assembly constituencies across the State. Polls will be held for 30 seats in Puducherry on April 6. The vote count is scheduled on May 2. The BJP is contesting on nine seats with the alliance led by the All India NR Congress contesting on 16 seats, and the AIADMK on five seats. Describing all 31 West Bengal Assembly constituencies where polls will be held on Tuesday as 'sensitive', the Election Commission of India (ECI) on Monday imposed prohibitory orders under Section 144 of the CrPC, an official said. The order prohibits public gatherings in the constituencies spread over parts of three districts on Tuesday when the third phase of elections will be held.
"A decision was taken to impose Section 144 of CrPC in all the 16 Assembly constituencies in South 24 Parganas (Part II), seven seats in Howrah (Part I) and eight seats in Hooghly (Part 1) where polling will be held tomorrow," the official said.