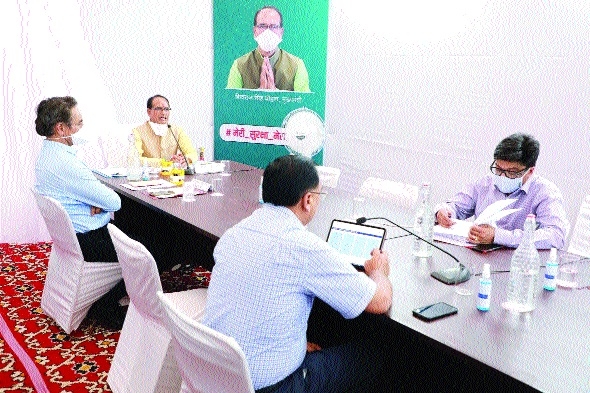 CM Shivraj Singh Chouhan holding a Cabinet meeting at a
temporary meeting hall at Swasthya Agrah site at Minto Hall Campus, Bhopal on Tuesday.
Staff Reporter :
Chief Minister Shivraj Singh Chouhan said that all possible efforts will be made to stop spread of corona in the State. Madhya Pradesh Government will leave no stone unturned. Ministers are being entrusted with responsibilities of reviewing efforts being made in various districts to prevent corona. Suggestions received from ministers will also be implemented. Arrangements for patients will be increased in private hospitals. Rates are being determined for various tests. He was holding a discussion with members of Cabinet through video-conference from temporary meeting hall of Minto Hall campus in Bhopal on Tuesday.
Cabinet was held specifically to discuss measures related to corona infection. He said that last week rates of different types of testing of corona had been fixed. Steps are being taken to determine rates of pathological tests and use of other machines like ventilators. The public will be informed about new rates. He said that efforts will be made to prevent infection in Shajapur and teams will also be sent from State capital. A new Covid Care Centre is also under consideration in Bhopal in private sector. Arrangements will be enhanced in other private hospitals as well as per requirement.
Patients from poorer sections will be provided with treatment facilities under Ayushman Yojana. Ventilators will be provided: It was informed that the State will be provided with 350 ventilators this week by Government of India. The current bed capacity is 24,000 which will be increased to 36,000 this week. Sunday lockdown will be imposed at 12 places: In the meeting it was informed that Sunday lockdown will remain unchanged in Bhopal, Indore, Jabalpur, Gwalior, Ujjain, Vidisha, Chhindwara, Narsinghpur, Barwani, Betul, Khargone and Ratlam.