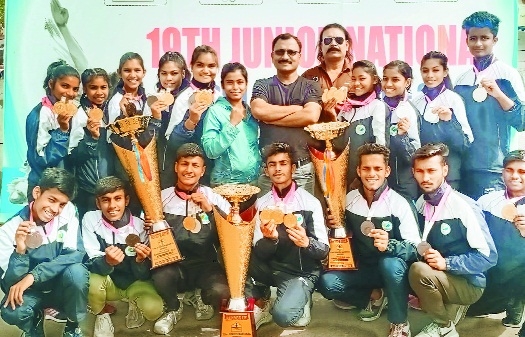 Sports Reporter :
SPARSH Khare and Tanya Jatav bagged three golds each helping Madhya Pradesh team bag the overall championship in the 19th Junior National Wushu Championship that concluded the other day. The championship was organised under the auspices of Wushu Association of India under the supervision of CSO Suhail Ahmed at Fatehabad in Haryana. Proving their mettle, State team players clinched a whopping 36 medals include 15 gold, 10 silver and 11 bronze medals.
The players who have won medals in their respective categories include Sparsh Khare and Tanya Jatav (3 gold), Shashwat Agrawal (2 gold, 1 silver), Anshita Pandey (2 gold, 1 bronze), Vanshika Namdeo (2 silver, 1 bronze), Kartik Sharma (1 bronze), Hemang Kewat (1 gold, 1 bronze), Manu Sharma (1 bronze), , Sanidhya Maratha (1 silver), Shilpi Namdeo (1 bronze), Surya Singh (1 gold, 1 silver), Harshita Gupta (1 silver), Aditi Shrivastava (1 silver), Pragya Yadav (2 gold, 1 bronze), Anushray Rai (1 bronze), Kaju Sondhiya (1 gold), Priyanka Kewat (1 silver), Ashish Singh (1 bronze) and Nandini Nagar (1 bronze).
Madhya Pradesh team also won a gold in girls dual, a gold in boys dual, 1 silver in group event. Divyansh Gupta was coach and Rajdeep Singh was manager while Satna's Shailendra Sharma was deployed as judge. On the achievement of the players, Principal Secretary (Sports), Gulshan Bamra, NK Tripathi, Dr Jitendra Jamdar, Sarika Gupta, Digvijay Singh, Santosh Singh Rajput and others congratulated the players and wished them success for their future endeavours.