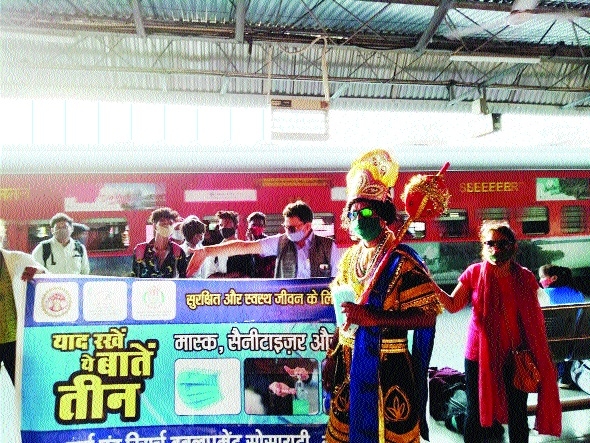 An artist in the guise of Yamraj making people aware of corona at Railway Station in Bhopal.
Staff Reporter :
To make people aware against corona and to encourage them to adhere to norms such as mask wearing and maintaining social distancing to keep the pandemic at bay, Search and Research Society organised puppet show at Bhopal railway station platform number 1 and 6. Through the medium of puppets, artists tried to disseminate the message of awareness towards Covid 19 disease.
Artists presented puppet show in interesting manner and at the same time, they also urged people to wear mask, sanitize hands regularly and vice versa. Apart from this, youths donned the look of Yamraj, Chitragupta and doctors to narrate the scary form of corona disease so that people should start following norms necessary to prevent them self from pandemic. They also appealed people to get vaccinated. On this occasion, Bhopal Railway Station Director NK Prasad and other railway officials were also present.