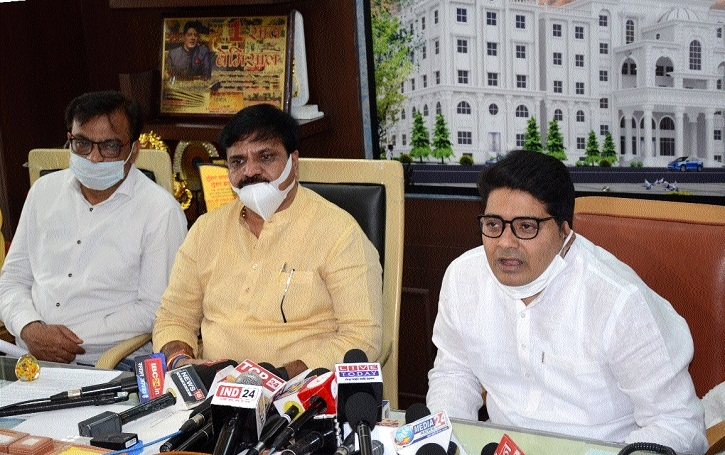 Mayor Aijaz Dhebar addressing the media persons about
his achievements. (Pic by Manoj Dewangan)
Staff Reporter :
RAIPUR,
Mayor Aijaz Dhebar on Tuesday laid out an exhaustive list of works and achievements as he tabled a Budget of Rs 1477 crore with a deficit of Rs 67 lakh. The Budget was introduced to media in a press conference as the General Body Meeting couldn't be held due to pandemic. Talking about several projects and schemes of his tenure, Mayor Dhebar said a total of 15 mobile medical vehicles are operating under the Mukhyamantri Slum Swasthya Yojana from November 1, 2020.
To enhance the public amenities, two additional zones have been established. Raipur Municipal Corporation (RMC) started English medium schools under Swami Atamanand Utkrisht Vidyalaya Yojana and Government BP Pujari School, RD Tiwari School and Shaheed Smarak School were upgraded. Budhatalab-Vivekananda Sarovar beautification was completed within 7 months and City Kotwali Police Station was transformed into a fully-facilitated multi-storey building. Jawahar Bazaar renovation was carried out and 67 shopkeepers were given possession of shops. Collectorate garden was upgraded with new facilities like landscaping, lighting and pavers. RSCL upgraded 220 meter bypass route to connect GE Road to Rajatalab Road near oxy zone and made underground cabling. RSCL will also undertake the Youth Hub project. Pink care centers with facility of women toilet and child care rooms were built for women at Pandri cloth market and Shastri market.
Door-to-door waste collection started by Ramki Enviro Engineer limited from May 9, 2018 in 70 wards. RMC will also provide ownership on Nazul land to shopkeepers of Gole Bazaar at Gandhi Bazaar A and B. Projects related to water supply, sewerage and urban transportation are being implemented with priority. Green zones are being developed at 9 different places under Amrut Mission scheme. RMC will also undertake sewerage treatment plant construction to stop flow of polluted water in river Kharun. The Tunhar Sarkar Tunhar Dwar programme reached out to people and solved thousands of issues at the camps within 35 days. Mayor further mentioned about many other works, schemes and projects which were undertaken, are being undertaken or will be undertaken by RMC and RSCL.