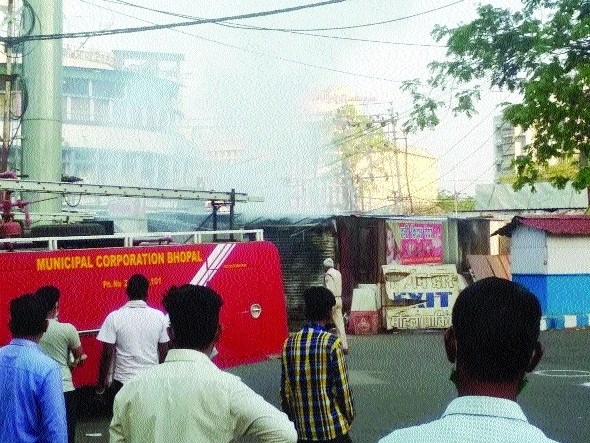 Fire Brigade team trying to control fire in New Market.
Staff Reporter :
Two shops in city's main New Market caught fire early on Tuesday morning. The shops were of cosmetic materials. Preliminary investigations have revealed that fire was caused due to short circuit. Firemen managed to control fire in time. The incident came to light at 5 am. When passers-by saw flames rising from the shop, they immediately informed police and Fire Department. After about 15 minutes, fire brigade vehicles reached the spot and fire was controlled. A two-storey shopping complex is being built in New Market there by breaking 45 platforms in New Market. Due to construction of shopping complex, 45 shops have been shifted near Pink Parking at Roshanpura intersection. Most of the shops are of cosmetics, bags, plastic items etc.
Both the shops are also being set up here, where there was fire in early hours of Tuesday. Businessmen have suffered a lot due to the fire. Ajay Devnani, Secretary of New Market Merchant Federation, said that fire was controlled in time. This prevented fire from spreading. BMC Fire Squad Incharge Rameshwar Neel said that two fire brigade team reached on the spot and fire was controlled within an hour.
A textile shop located in Lakherapura in the old city before New Market also caught fire on April 5. The firemen had to struggle a lot to douse the fire. Actually, road in the said area is quite narrow. Due to this, fire brigade did not reach on time. By then, fire had taken a terrible form and it took more than one hour to control fire, fire squad officials informed.