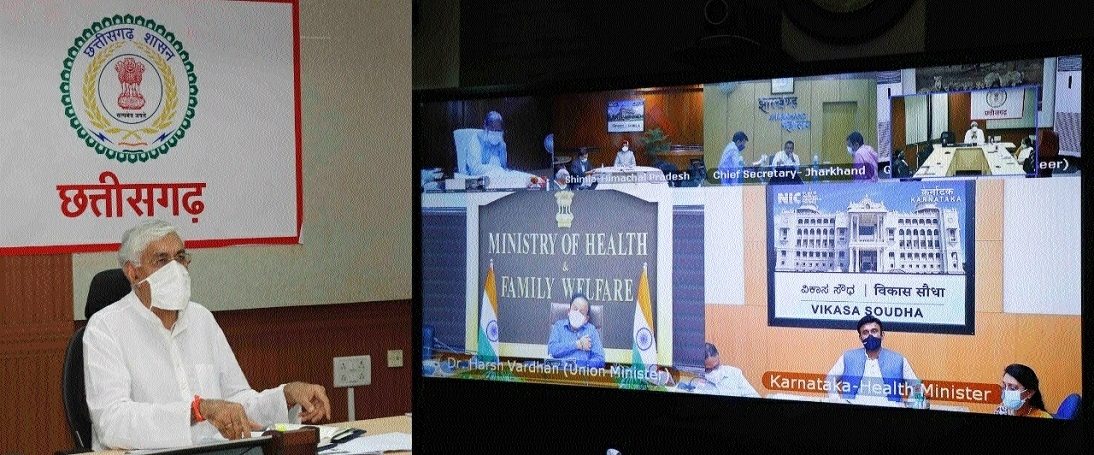 Health Minister T S Singhdeo during virtual meeting with Union Health Minister Dr Harsh Vardhan and other State Ministers.
Staff Reporter :
RAIPUR,
IN a virtual meeting of the Health Ministers with the Union Health Minister Dr Harsh Vardhan in connection with the prevention of Corona infection and vaccination. Chhattisgarh Health Minister T S Singhdeo informed that vaccination is being done on large scale and number of corona test performed daily has been increased. Officials are strictly adhering to the guidelines issued by the Government of India for effective control of corona infection in the state. Every day 3 to 4 lakh people are being vaccinated against corona and 36,000 to 40,000 people are being tested for corona infection.
Health Ministers and senior officials from 11 states of the country participated in the virtual meeting. Singhdeo said that the cases of corona infection have increased in the last two months in Chhattisgarh. Keeping this in mind, testing has been increased and corona vaccination is also being done on a war footing. The identified Corona infected persons are being treated effectively in hospitals and under home isolation. He said that due to strict adherence to the guideline, corona testing and vaccination in Chhattisgarh state, it is expected that corona infection will be controlled soon. Health Minister Singhdeo informed that people are being made aware to use face mask, hand sanitiser along with following physical distancing. The State Government has directed to limit the number of people during mass programs and marriages and other purposes. On this occasion, he also requested the Union Minister Dr Harsh Vardhan to prescribe the objective criteria related to lockdown in places with excess corona infection.
Health Minister Singhdeo informed the Union Health Minister in detail about the current status of Covid-19 in the state, treatment of patients and necessary steps being taken on health related issues, etc. He informed that a large-scale vaccination is being done by the Health Department under the guidance of Chief Minister Bhupesh Baghel. There are five divisions in State which consists of two tribal's and three in plain areas. He informed that there are currently 7 RT-PCR laboratories for corona examination. Apart from this, the work of setting up 4 laboratories is in the final stage. 5 other labs in the state have also been identified for corona examination. Singhdeo informed that tracing of people coming in contact with infected people is also being done. Constant appeals are also being made for public to follow preventive measures and take precautions for corona control. People are being motivated to do quick testing as soon as symptoms of corona are seen. Additional Chief Secretary Renu G Pillai, Health Secretary Sahala Nigar was present during the meeting.