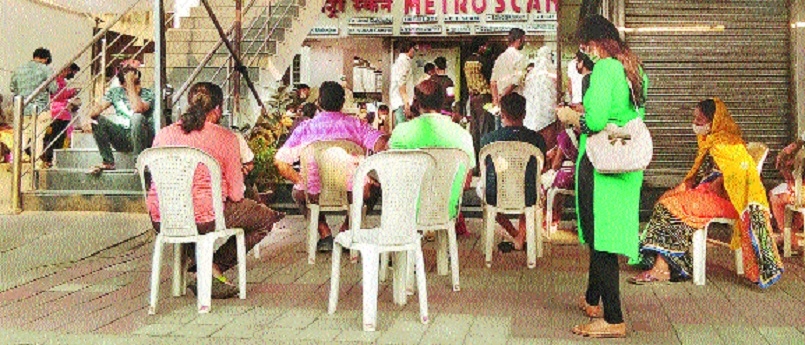 Citizens waiting to get CT-Scan report at a centre in city.
Principal Correspondent :
With rise in number of persons testing positive every passing day, the district saw a new high on Wednesday. As many as 5,338 persons tested positive for the dreaded virus in one single day in Nagpur district. The number is highest since coronavirus pandemic hit the region last year. Of this count, 7 persons who tested positive are from outside Nagpur district. Also, the district witnessed 66 deaths of due to COVID-19. Number of victims is highest of the season so far. Nagpur rural has reported 2,048 new COVID-19 cases while 3,283 persons tested positive in city taking today's new cases to 5,338 of which 7 persons are from outside Nagpur district. With these the cumulative positive cases reached 2,54,221.
The district witnessed 66 COVID-19 deaths with Nagpur rural reported 25 victims and 34 deaths due to this dreaded virus in city. Seven persons who died due to coronavirus were the persons from outside Nagpur district. The cumulative death count due to COVID-19 reached 5,504 of which 888 who died in district due to coronavirus were the residents of the places from outside Nagpur district. There is one good thing taking place these days. Though the number of new COVID-19 cases is rising, the recovery too is increasing. In fact in last four days, the recovery kept improving on four consecutive days. Today 3,868 persons became corona-free taking the cumulative recovery to 2,05,784. Recovery rate that saw better improvement on Tuesday has slightly come down to 80.95%. Number of active cases rose to 42,933. Number of testing reported on Wednesday is quite high as the count stood at 19,191. Nagpur rural has crossed 8,000 mark in testing.
Rural part reported 8,743 testing while Nagpur city has registered 10,448 testing taking the cumulative testing count to 17,38,598. The samples examined through RT PCR were 13,584 while 5,607 were through Rapid Antigen Test. Apart from the samples of Nagpur district, the people from Nagpur and out of city approached various laboratories in Nagpur to get themselves examined. The samples came for examination at various laboratories in Nagpur include virology laboratory of Indira Gandhi Government Medical College and Hospital (IGGMCH) (2,107), Government Medical College and Hospital (GMCH) (2,386), molecular diagnostic laboratory of All India Institute of Medical Sciences (AIIMS) (1,870), National Environmental Engineering Research Institute (NEERI) (290), Rashtrasant Tukadoji Maharaj Nagpur University (RTMNU) (736) private laboratories (6,195), Antigen (5,607).
HC names 12-member panel to tackle pandemic situation
Committee expected to submit its report to court on Thursday afternoon
Staff Reporter :
Nagpur bench of Bombay High Court has named a 12-member panel headed by Divisional Commissioner to prepare a comprehensive strategy to deal with alarming situation due to the second wave of COVID-19 virus. The committee was asked to deliberate over the present scenario and chalk out a comprehensive plan and strategy for tackling the present and future situation of pandemic in Nagpur. The panel named as 'Nagpur COVID-19 Committee' has District Collector as the Member Secretary. Municipal Commissioner, Director of All India Institute of Medical Sciences (AIIMS), Deans of Government Medical College and Hospital (GMCH) and Indira Gandhi Government Medical College and Hospital (IGGMCH), President of Indian Medical Association (IMA), President of Vidarbha Hospitals Association (VHA) and four medicos including Dr Anil Laddhad, Dr Anand Kate, Dr Imran Noor Mohd, and Dr Ravindra Sarnaik are other members of this panel, which has been asked to spell out difficulties faced by Health authorities and also by private hospitals. A division bench consisting of Justice Sunil Shukre and Justice Avinash Gharote, while hearing a suo-motu PIL about pandemic and its various facets, expressed deep concern over rising number of COVID-19 positive patients and death toll due to this different variant of COVID-19 virus in every major city of Maharashtra.
Due to this sudden rise, whole health machinery is under tremendous stress. Beds in private hospitals are full and only a few beds are available in Government hospitals like GMCH, IGGMCH, AIIMS, and also in the hospitals under control of Nagpur Municipal Corporation (NMC). Health authorities are also experiencing the dearth of doctors and nursing staff, the High Court noted while asking authorities to deliberate over this issue to tide over this emergency situation. The committee has been asked to make plans and submit a report on difficulties faced at present along with possible solutions, to enable High Court to issue necessary directions. Adv Shreerang Bhandarkar (Amicus Curiae), Adv Sudhir Puranik (NMC), ASGI Ulhas Aurangabadkar (Union), Senior Advocate M G Bhangde and Additional GP Deepak Thakre (State), Adv Bhanudas Kulkarni (IMA), Dr Pradip Arora (VHA), Adv Ram Heda appeared in the matter.
Hospital beds mgmt tops the agenda The High Court has asked the committee to consider regulating admissions of COVID-19 patients to all hospitals including private hospitals. In the backdrop of complaints about admitting non-serious or non-deserving patients to COVID Hospitals, just because they are financially strong or are under cover of medical insurance, the High Court asked the committee consisting of top officials and medical experts to formulate regulations and if necessary create some sort of Central Admission Authority to co-ordinate hospital beds management in more efficient and people-friendly manner. The committee is expected to submit its report to court on Thursday afternoon. The physical hearing of this matter is scheduled on Thursday afternoon in the judges' conference room so that appropriate social distancing can be maintained. 'Grant NOCs to AIIMS in 3 days' AIIMS informed the High Court that 100 beds were additionally created out of which 25 would be converted to oxygenated ones by Thursday, subject to grant of statutory permissions like No Objection Certificate (NOC) of Fire Department and Occupancy Certificate from MADC.
The High Court directed MADC to verify the site and statutory requirements and grant NOC within three days. Other authorities were asked to show similar speed so that these hospital beds were made available. AIIMS authorities also sought support from the State Government regarding providing additional medical staff such as eight Specialist Doctors (MD Pulmonary Medicine/General Medicine/Anaesthesiology), 48 Duty Medical Officers (MBBS/BAMS), 64 Nurses for discharging its responsibilities towards the indoor patients. About the provision of additional medical staff and also payment of remuneration, the new committee has been asked to take a call in this regard. The High Court also directed AIIMS authorities to place on record a proposal sent to Central Government two years ago demanding additional posts of all the categories so that necessary directions, if required, can be issued.