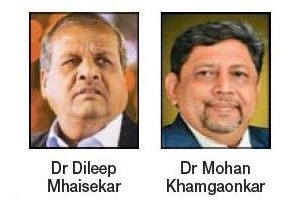 Principal Correspondent :
Dr Khamgaonkar played an important role in developing curriculum, adds MUHS V-C
Most universities witness internal feud especially at top level on several issues. Cordial relations among the colleagues have become thing of past. Lack of coordination among the senior colleagues results in damaging the quality of education. But the pair of Dr Dileep Mhaisekar as Vice-Chancellor and his deputy Dr Mohan Khamgaonkar with top-class mutual understanding took Maharashtra University of Health Sciences (MUHS) at a different height. Dr Mhaisekar wanted the university to become more student-centric and he succeeded in that mission. Dr Khamgaonkar kept working on competency-based medical education and development of curriculum. The tenure of Dr Mhaisekar as Vice-Chancellor has ended recently.
As a rule Dr Mohan Khamgaonkar too had to demit the office, being Pro-Vice-Chancellor. 'The Hitavada' talked to both on several issues from what exactly they had thought when they had taken charge of their respective positions to whether they are satisfied now with whatever they did during their tenure. "When I took charge, I had certain things in my mind. I wanted the university to become more student-centric. As a teacher I have been observing several issues related to students. I don't want to cast an aspersion on anybody but I personally feel, nobody gives a thought to student component.
So I tried to simplify all the procedures. With the introduction of digitalisation, the physical work got reduced drastically. This has helped students also at large apart from the other components related to MUHS," explained Dr Mhaisekar. Both--Dr Dileep Mhaisekar and Dr Mohan Khamgaonkar had initiated several new things. MUHS became the first in the country that prepared evaluation models for new competency based Under Graduate (UG) curriculum. It is also first in evaluating its own colleges. It has also started taking efforts to make students becoming addiction-free. Dr Mhaisekar endeavored to make college campuses free of ragging, for which they both visited medical colleges in the state. Dr Mhaisekar and Dr Khamgaonkar had chalked out a plan according to which they started direct interaction with students, faculties and staff separately during their visits to medical colleges.
Dr Mhaisekar said, "I feel we should have specialization in subjects like Virology, Epidemiology, Biotechnology. If we have a look at the current situation, these three subjects are playing major roles. There should be Post Graduate Teaching Institute for these three subjects. Secondly, with everything has become online I thought of setting up E-learning centre, to some extent I did some work on it. Now students are able to work online and get their work done. Of course the system is working well for other MUHS-related components too." Dr Mhaisekar had initiated the projects like submitting proposals of new colleges online, operating inspection reports sent by Local Enquiry Committee online. With several problems related to electricity connection, Dr Mhaisekar had encouraged solar energy project. He saw to it that university should not have to pay the electricity bills instead it would get a fund of Rs 5 lakh every year. He always thought of revenue building of MUHS. Amit Deshmukh, the Medical Education Minister who was Pro-Chancellor of the university had expressed his wish that students after passing Class 12 should be able to do some medical-related course.
Dr Mhaisekar had come up with para-medical courses for such students. "My motto to introduce these courses was that such students should be able to get jobs immediately. We had designed these courses in that way," pointed out Dr Mhaisekar. Dr Mohan Khamgaonkar focussed on the monitoring of competency based medical education at national-level too. He did take care of development of curriculum. Apart from improving quality of PhD. fellowships, Dr Khamgaonkar did examination supervision under the leadership of Dr Mhaisekar. "Dr Mhaisekar has always remained as a big support to me. I focussed on research conferences, research medhotodly workshops which we initiated from 2017 onwards. We have tried to develop research mentors in all pathies. I was in national group also for curriculum development," elaborated Dr Khamgaonkar.