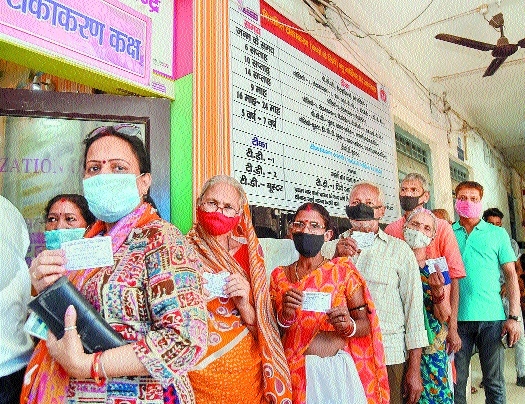 Beneficiaries stand in a queue as they wait for their turn to get
vaccinated with COVID-19 vaccine at a Government dispensary in Patna on Wednesday. (PTI)
NEW DELHI :
Average 30,93,861 vaccine doses administered daily
Cumulatively, 8,70,77,474 doses administered
INDIA has surpassed the US to become the fastest COVID-19 vaccinating country in the world with an average daily rate of 30,93,861 vaccine doses, the Union Health Ministry said on Wednesday. The cumulative number of COVID-19 vaccine doses administered in the country has crossed 8.70 crore. Cumulatively, 8,70,77,474 vaccine doses have been administered through 13,32,130 sessions, as per the provisional report till 7 am. These include 89,63,724 health care workers (HCWs) who have taken the 1st dose and 53,94,913 HCWs who have taken the 2nd dose, 97,36,629 frontline workers (FLWs) who have received the 1st dose, 43,12,826 FLWs who have taken the 2nd dose.
Besides, 3,53,75,953 and 10,00,787 beneficiaries more than 60 years old have been administered the 1st and 2nd dose respectively while 2,18,60,709 and 4,31,933 beneficiaries aged 45 to 60 were given the 1st and 2nd dose respectively. More than 33 lakh vaccination doses were administered in the last 24 hours. As on Day-81 of the vaccination drive (6th April), 33,37,601 vaccine doses were given. Out of which, 30,08,087 beneficiaries were vaccinated across 41,396 sessions for 1st dose and 3,29,514 beneficiaries received 2nd dose of vaccine.
India reports highest daily spike with over 1.15 lakh new cases: The number of new coronavirus cases in India hit a record daily high since the outbreak of the pandemic with over 1.15 lakh new infections being reported in a span of 24 hours, pushing the nationwide COVID-19 tally to 1,28,01,785, according to the Union Health Ministry data updated on Wednesday. The single-day rise in coronavirus cases breached the 1-lakh mark for the second time in three days. A total of 1,15,736 infections were reported in a day, while the death toll increased to 1,66,177 with 630 daily new fatalities, the data updated at 8 am showed.