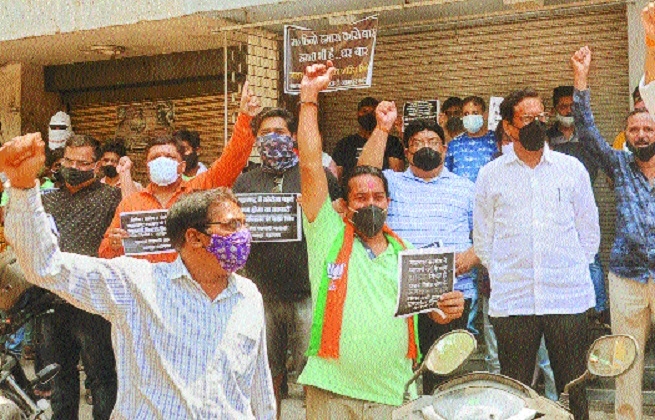 Business Bureau :
ON CONTINUOUS perusal by the Confederation of All India Traders (CAIT) to the Chief Minister of Maharashtra Uddhav Thackeray called a virtual meeting on Wednesday with the prominent trade leaders of Maharashtra. The meeting was led by CAIT National President B C Bhartia, regarding the Covid-19 pandemic outbreak and the measures to be taken apart from lockdowns and curfews. Various trade organisation took part in this virtual meeting. Bhartia spoke on behalf of the lakhs of traders of Maharashtra.
He said, "In view of the recent increase in the Covid-19 cases in Maharashtra it is important to take immediate action, but shutting down the shops and businesses across the State is no solution. Night curfews or partial lock down will not give a permanent solution and will do more harm than good to the recovering economy of Maharashtra." Offering a concrete solution to check growing Covid cases, Bhartia suggested that rather than a complete shutdown, separate timings for opening businesses and offices, markets and shops should be considered.
"Opening of the businesses and shops is very important as the traders have already suffered huge losses in the previous shut down and it was only starting to recover when this second blow has been imposed," he said. The other trade associations have also supported the same and requested the CM not to impose the complete shut down of shops as it will ruin their existence this time. Arjundas Ahuja, Vice-Chairman of NVCC said, "Trader have been badly affected by last years lockdown. Again in March 2021 the local administration imposed a lockdown, now the State Government imposed a lockdown and in future Central Government may also resort to a lockdown in the name of the growing Corona infection. With no solution in sight, we urge the Government to allow the traders to do business at the earliest." Dipen Agrawal, President of CAMIT requested Chief Minister to reverse the injustice done with traders by allowing all shops, markets, malls and private offices to operate on all weekdays.
After carefully listening to everyone, Thackeray assured that he will consider the problems and suggestions put forward by trade leaders seriously. He asked for two days time and said that some responsibility has to be taken by the businessmen as well. They have to work with Government together in order to curb the outbreak and in the fight against Corona. Thackeray strongly emphasised that it is important that everyone should be united and work on the same page in order to win this battle.