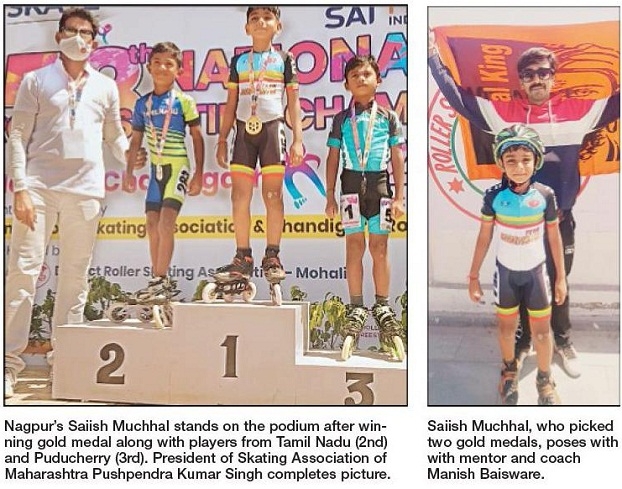 Sports Reporter :
Return with seven medals representing Maharashtra
REPRESENTING Maharashtra, Nagpur players did a remarkable job in the National Skating Championship that concluded at Mohali, Chandigarh in Punjab recently. The mega event was Roller Skating Federation of India successfully organised a national-level competition for various age groups. While representing Maharashtra team, the players from Nagpur did a great job and won gold medals and made Nagpur and Maharashtra proud.
Nagpur players won as many as seven medals including two gold, an equal number of silver medals and three bronze medals. The medal winning players are as follows: Saiish Amit Muchhal (Seva Sadan Saksham School), age group 5-7 — 1 gold medal in 600m inline and 1 gold medal in 400m inline; Jay Avinash Kolte (RS Mundle School), age group 5-7 — bronze medal in 400m quad event; Mihika Prince Agashe (Samaksh School), age group 7-9 — 1 silver medal in 1000m inline and 1 bronze medal in 500m inline; Khushi Chandrasekhar Lakhotia (Montfort School), age group 9-11 — 1 silver medal in 200m inline and 1 bronze medal in 1000m inline.
All the players train under former national players and coaches Manish Baisware and Tiffon Sinha at Pratap Nagar, Ram Nagar and NIT Skating Rink, Corporation Colony. Upendra Verma, Secretary, Nagpur District Roller Skating Association (NDRSA) provided valuable guidance and support to the players. All the medal winners gave the credit of their success to coaches and their parents. Pushpendra Kumar Singh, President, Skating Association of Maharashtra; Shripad Shinde, Pradip Singh, Deepak Pawar, Santosh Bund, Pravin Deshpande were present during the event and the players were encouraged all the way.