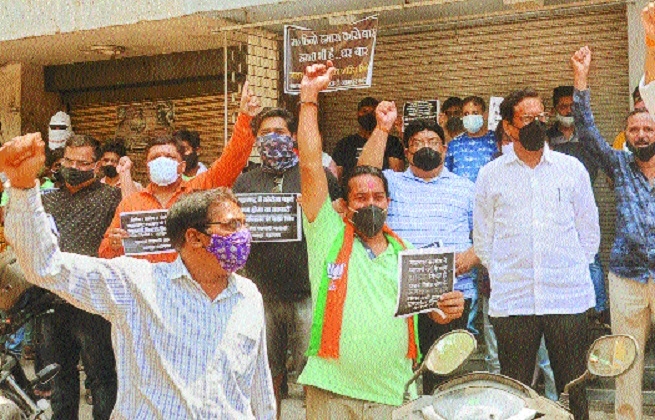 Traders raising slogans against fresh lockdown guidelines forcing them to down shutters. (Pic by Anil Futane)
Business Bureau :
Perturbed over the pathetic situation created due to lockdown, members of Sitabuldi Merchants Association have decided to open their shops from April 9, 2021. They said that their business was already reeling under recession and the lockdown imposed by State Government upto April 30, 2021 will make the situation more dismal. There are about 300 members of the Association on whom over 10,000 direct and indirect families are dependent. Talking to The Hitavada, Hussain Noorallah Ajani, Secretary of the Sitabuldi Merchants Association, said, "This is 13th lockdown we are facing. We are not in a position to tolerate the impact of lockdown as we have become penniless. Not only our staff but we too are unable to meet our both ends meet."
He said, "Government is excluding other things to work normally and has only taken traders like us for a ride. This is totally injustice. We are ready to die but will not close our shops. We all the members of Sitabuldi Merchants Association have decided to open our shops from April 9, 2021." Ajani said, "If Government is serious about the COVID-19 pandemic, it should impose complete lockdown. This is a partial lockdown which will not serve any purpose. There is spike in the cases of coronavirus. The reason is partial lockdown.
Trains, buses and auto-rickshaw have been allowed to ply on road where there is no control." He said, members of the Association have been fined by MSEDCL for not paying the power bills. Even, some of the power of the members were snapped. Ajani said, "We have to pay taxes, do complianes and pay the bank installments. If we are dissallowed to do business, we will not be able to pay the requisite complainces and banks installment." There are also some members of Sitabuldi Merchants Association who are running their shops on rent.
"If there is no business, then how the rentals will be paid. Our plights should be seriously taken into account by the State Government. At this juncture, we need help. State Government should bail us out from the present situation. We will follow all COVID-19 protocols," Ajani said. Other members of trade associations were also seen on streets on Wednesday demanding lifting of lockdown.