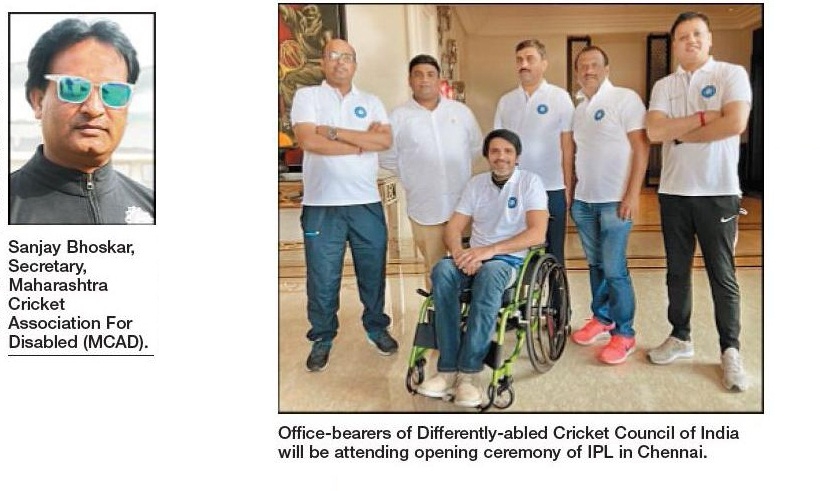 ■ Sports Reporter :
VERY recently, recognised and established cricket associations running wheel chair, physically challenged, blind and deaf cricket came together under a common umbrella forming Differentlyabled Cricket Council of India (DCCI). Jay Shah, Secretary, Board of Control for Cricket in India (BCCI), in a meeting with all the stake holders of disability cricket had said the BCCI was more than eager to help all forms of cricket in the country including cricket for differently-abled cricket players.
With most popular cricket league in the world, the Indian Premier League (IPL), getting under way on Friday, it has come as a matter of pride for DCCI that BCCI has extended invitation to its office-bearers for the opening ceremony to be held in Chennai. "It is a very good sign for differently-abled cricket. The council has just been formed (registered under the Karnataka Societies Registration Act) and BCCI inviting its office bearers is very positive thing that has happened to our sport," said Sanjay Bhoskar, Secretary, Maharashtra Cricket Association For Disabled (MCAD) Nagpur, while expressing his happiness to 'The Hitavada' on Thursday.
"I think this is just the start. Much more will come our way. Our dream to play with BCCI logo and represent India in international tournaments may come true very soon. We all are looking forward to DCCI's meeting with BCCI that is fixed for April 16," added Bhoskar. The Lodha Committee formed by Supreme Court had also recommended in its report that cricket for differently-abled should be given a priority and efforts should be made to form a committee to run differentlyabled cricket in the country. Dr Mahantesh GK, President, DCCI; Sumit Jain,Vice-President; Ravi Chauhan, Secretary; Sqn Ldr (Retd) Abhai Pratap Singh, Joint Secretary and John David, Treasurer will be attending the IPL opening ceremony representing various sections of differently-abled cricket.