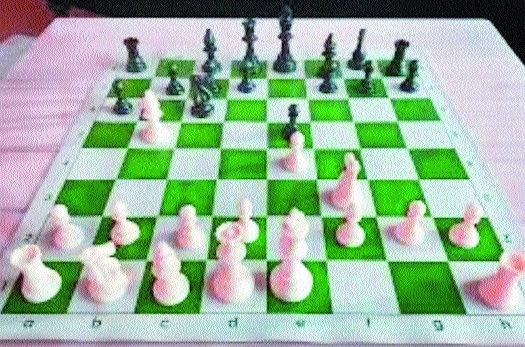 Principal Correspondent :
VNIT Nagpur inaugurated its Chess Club in the presence of Director Dr PM Padole, Deans, faculties, students and alumni of the institution. The inauguration was held online where renowned chess personalities from Nagpur like International Master Anup Deshmukh and others attended the event. Well-acclaimed chess coach of India Grandmaster RB Ramesh was the chief guest who attended the function online. In his speech, GM Ramesh emphasised the need for hard work. In his address to youth he said "choosing right thing to do even when it's a tougher option is not easy". About chess he summarized the gist of the game by saying, "chess is not about just moving pieces, it's about taking decisions consciously." GM Ramesh also played a bullet game of two minutes with VNIT chess team. The game brought excitement and was the highlight of the online event.
Prof VS Adane made the introductory remark. He presented the road map for the club and explained that, in future, the club aims to cover even the remotest parts of city through various programmes. In a short address Anup Deshmukh recollected his interactions with VNIT and GM Ramesh. The Dean Student Welfare Prof DH Lataye too gave his blessings for the club. Prof Padole, the Director VNIT, in his address welcomed all and assured that all the help will be provided by the institute. He recollected the names of successful chess players produced by the institute over the years. He said that the skills like strategy making and planning should be learned by the students which will help them in their career.
The anchoring was done by first year undergraduate student Tamaghna Chaudhari while Dr Bhooshan Rajpathak proposed a vote of thanks. A brief question and answer session followed the main event where GM Ramesh answered the queries posed by students. Over 100 participants attended this online event. Many prominent chess personalities like Nagpur District Chess Association President KK Barat, Manoj Itkelwar, Jayant Katdare, International Arbiter Swapnil Bansod, Umesh Panbude, Dilip Page, Praveen Pantavane, R Srivastava, Dilip Kamdar and Gurpreet Maras wished luck to the club. First year students, namely Sangharakshit Kadam, Nihar Vankudre, Samyak Patodi, Pushkar Dave, Yash Singh and others worked hard for the success of the event.