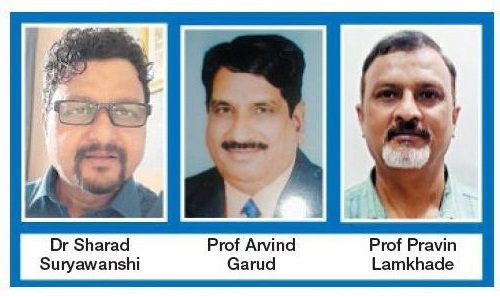 By Anupam Soni :
SPORTS Authority of India's (SAI) Academic Wing Netaji Subhas National Institute of Sports (NSNIS) will be conducting six-week certificate courses in sports coaching under mass sports participation programme from June 21. The coaching programme covers as many as 24 different sports disciplines and city experts in their respective fields, urged PTIs, young coaches and even students to go for the short courses as those are immensely helpful. Following are the sports disciplines for both men and women, having passion in coaching or working in schools, colleges, universities, industrial houses and other agencies associated with sports — archery, athletics, badminton, basketball, boxing, fencing, football, gymnastics, handball, hockey, judo, kabaddi, kho-kho, swimming, taekwondo, table tennis, tennis, volleyball, weightlifting, wrestling, wushu, yoga, canoeing & kayaking and rowing. 'The Hitavada' reached out to a few experts for their views on the online course. Dr Sharad Suryawanshi, Director, Sports and Physical Education Department, Rashtrasant Tukadoji Maharaj Nagpur University (RTMNU), who is also Secretary, Nagpur District Athletics Association, termed the online courses as need of the hour considering the pandemic situation. "It is definitely a very good course.
SAI takes a very scientific approach towards sports. Coaches at grass root levels, except those who are absorbed by CBSE schools, never get a systematic training of sports. "During this online course, necessitated due to the COVID situation, will help the participants learn the theory part at home. The course is very good for sports teachers and physical training instructors of schools and colleges. They need to have basic knowledge of many sports and if they are able to get certificates of at least 5-6 sports in their career, it will surely help them," said Dr Suryawanshi. "It is also good for those players who have left the sport but are now into coaching. If somebody wants to start a sports academy, this certificate course will come handy. I will also suggest to those who have already done the course long back to get registered afresh because the trends in coaching are much changed nowadays. It is necessary to stay updated," he added. There are some sports lovers in our own city who are ready to shell out money from their own pockets to let those interested players or coaches, who are economically weak and cannot afford the fees, take the SAI course. Senior basketball coach Prof Arvind Garud is one of them.
"I have already asked two young basketball girl coaches to get registered for the course. I have promised them of bearing all the expenses for the course. I might help one more genuine person," he said. And all this because Garud knows about importance of the course. "It is a very good course. It is a good chance for both boys and girls to complete most part of the course sitting at home. The participants would definitely gain rich experience and the course will definitely provide them good returns," Garud said. NIS swimming coach Pravin Lamkhade , Senior Coach at Aqua Sport Club and Director of Physical Education, Rani Indirabai Bhosle Mahavidyalaya, Kuhi felt that the online course is a boon for those who cannot attend it for continuos six weeks. "This is an annual feature of SAI. They conduct these courses through regular classes at the centre. It is for the first time that they are conducting it online due to the ongoing pandemic. The online class is a very good opportunity for school PTIs and others who do not get six weeks time at a stretch. They can complete a good course sitting at home. They will have to attend physically for only few days. "It (SAI) is the top sports institution in the country and one must avail the facility. All the newcomers and those who are seeking jobs must do it.
The knowledge will also be helpful for officiating and organising district or state level sports events. "Since it being an online course, I think it will be possible for SAI to engage foreign coaches for guidance and invite famous players for sharing their experiences apart from regular coaches," Lamkhade said. The late date for submission of applications and fees is May 18, 2021 while that through post is May 25, 2021. After the end of due dates of submission, SAI will be doing assessment of Applications from 26-05-2021 to 16-06-2021 and the selection list will be published on 18-06-2021. Online classes will be held form 21-06-2021 to 13-07-2021 while Physical Report at Centre will be on 19-07-2021. Practical Teaching Classes will be conducted from 20-07-2021 to 29-07-2021. Theory examination will be taken on 30-07-2021 while the practicals will be conducted from 31-07-2021 to 03-08-2021. Certificate Award Ceremony will be conducted on 03-08-2021.
Application form may be obtained from the office of the Deputy Director (Academics), Sports Authority of India, Netaji Subhas National Institute of Sports, Old Moti Bagh, Patiala-147001 or may be downloaded from the website www.nsnis.org. The prescribed fee for the entire duration of the Six-week Certificate Course is Rs 22,400 which includes lodging, boarding and other miscellaneous expenses. Fee that must be deposited before start of online classes amounts to Rs 16,800. Fee for lodging and boarding will be paid by the candidate when joining physically at the centre of training. Candidates fulfiling the minimum eligibility criteria of educational qualification and sports achievement are eligible to apply. To select the candidates for the course, a merit list will be prepared based on the marks allotted. (visit website for details). The candidates must be between 20-42 years as on April 19, 2021. Relaxation in upper age limit up to five years will be given to the candidates belongs to SC/ST/OBC and candidates belongs to north-east region. n